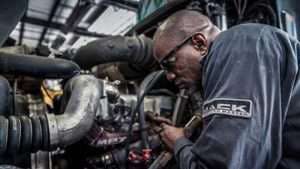 Mack Trucks announced last week at the Mid-America Trucking Show (MATS) in Louisville, Ky., that is has extended its industry-leading commitment to uptime by incorporating a new process that efficiently and effectively captures customer feedback regarding their service experience.
During the first year of using the new Customer Experience Management approach, Mack says it slashed by 50 percent the time it took to address outstanding customer service issues.
"There is great value in capturing the voice of the customer because it allows us to equip ourselves and our dealers with more immediate information to improve our response and therefore increase customer satisfaction," says David Pardue, vice president of connected vehicle and contract services with Mack Trucks.
As part of the new process, Mack uses digitally-distributed, easy-to-complete surveys to collect customer feedback during key service touchpoints that impact overall satisfaction, such as communication during the repair process, total time required for a repair, the availability of parts and the likelihood that the customer would recommend working with the service professional who assisted them. Dealers and the Mack uptime organization use that information to help identify the root causes of any issues and improve processes, the company says.
Surveys are triggered by the Mack ASIST web-based service management system, making it easier for customers to respond and giving them a direct line of communication with Mack Trucks and its dealers. Mack says the result has been a 40 percent improvement in response rate, driving improved operations, including an increase in dealership staffing and warranty training for sales representatives.
"Customers have reported they are very pleased to get a personal response to their feedback," Pardue says. "That acknowledgement, as well as the fact that their feedback was used to make changes, goes a long way toward building trust and demonstrating that we value their time and opinions."
Feedback can be categorized according to a number of parameters, including location, whether the customer visited his home dealership or another dealer in the network, as well as service performed at a Mack Certified Uptime Center versus a non-certified dealer location. Ongoing survey data also will continue to show areas where Mack dealers and Mack OneCall uptime agents can deliver improvements, the company says.
Currently, two surveys are available to Mack customers. A dealer survey was launched in February 2017 and a call center survey was released in December 2017. An additional survey for the truck sales and delivery process is currently in development, the company says.
Mack Connect gets updates
Mack Trucks also shared additional details about Mack Connect and its suite of tools during last week's event.
"Productivity translates to profitability, and our customers are always seeking the next advantage to gain an edge," says Jonathan Randall, senior vice president of sales and marketing for Mack Trucks North America. "With Mack Connect, we're providing the tools required for our customers, and their customers, to be successful in today's competitive trucking industry."
Mack Connect integrates intelligent software, predictive analytics and driver assist technologies into three pillars to boost productivity: connected support, connected business and connected driving. Mack Connect comes standard on all Mack models, including Mack's newest highway model, the Mack Anthem.
Regarding connectivity, Mack says Connect offers several features to improve safety, efficiency and comfort. New safety features include Mack Predictive Cruise, an intelligent cruise control system, while new information and entertainment options such as Bluetooth connectivity, satellite radio and Apple Car Play integration, allow drivers to focus on the road ahead. Drivers can also download additional applications, such as navigation, to help ease the demands of the open road.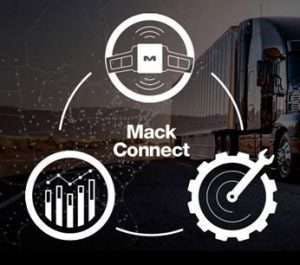 For connected support, the company offers Mack's proven telematics-based solution, GuardDog Connect. If the system detects an issue, Mack's 24/7 OneCall staff at the Mack Uptime Center is automatically notified. Depending on the severity of the issue, Mack says OneCall agents will reach out to the customer's designated contact with actionable information through Mack ASIST, an online communications and service management portal.
"Mack's industry-leading approach to uptime is paying dividends for customers," says Pardue "GuardDog Connect has helped us cut diagnostic and repair times by more than 70 and 20 percent respectively."
Finally, customers rely on data to help drive business decisions, and Mack says Connect provides several data-driven options to improve operational efficiency. Data from Mack's GuardDog Connect telematics platform is made available to best-in-class fleet management software providers, allowing customers to choose fleet management software that works for their business, without having to rely on third-party hardware installations.
"When it comes to fleet management solutions, our approach is centered on enabling customer choice," Pardue says. "Using our GuardDog Connect platform as the data source allows for the ultimate flexibility. And with no third-party hardware to worry about, customers can modify their fleet management services as the needs of their businesses evolve."