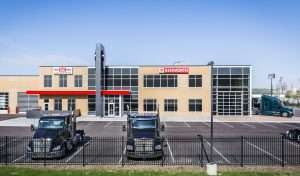 Rihm Kenworth recently celebrated the opening of its new facilities in South St. Paul and Coon Rapids, Minn., where the family-owned business sells and services Kenworth trucks. Rihm Kenworth is the second-oldest continually operated Kenworth dealer in the world, according to an announcement. The new facilities accommodate the company's recent growth, as it acquired a commercial truck leasing company last year.
Rihm Kenworth's parent company is Rihm Family Companies (RFC). The South St. Paul and Coon Rapids locations offer the entire array of RFC services, which include truck sales, leasing, rental, repairs and truck parts sales. RFC now operates 21 locations in Minnesota, Wisconsin and South Dakota, with a total workforce of more than 300 employees.
"We are very happy to be up and running at both new locations, providing the same excellent service with an improved experience for our customers," says Kari Rihm, RFC president and CEO. "If you are in need of service, repairs or parts, we are a one-stop shop."
After 85 years based in St. Paul, Rihm Kenworth moved its corporate headquarters to its 68,000 sq.-ft. facility in South St. Paul, off the city's historic Concord Street. The new full-service location in Coon Rapids, near the intersection of Highway 610 and Coon Rapids Boulevard, totals 75,000 sq.-ft. and features a body shop with state-of-the-art paint capabilities, a frame-straightening rack and alignment diagnostics and repair. Rihm isn't only expanding its space. It is also expanding its workforce, with open positions for diesel technicians, parts sales, delivery, warehouse jobs and more.
The new shops also offer comfort and convenience with heated floors, customer lounges and extended hours of operation. "We've built our new offices with people in mind," says Rihm. "These facilities are helping us improve our service and offerings for our loyal customers throughout Minnesota and Wisconsin."