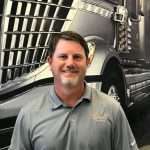 Summit Truck Group has promoted Charlie Jordan to area sales director (ASD), new trucks.
According to Summit, each oversees all truck sales for two to four dealership locations in a specific geographical area. Charlie will oversee vehicle sales in Summit's Area 5, which encompasses the Memphis Tenn., and Tupelo Miss., areas.
Summit's ASDs also work in conjunction with area operations directors (AODs), who serve in a similar capacity, overseeing parts, service, and body shop operations for two to four dealerships in a geographical area.
Jordan has a number of years in sales, including with another commercial truck dealership and a tire shop. He says his success at those companies ultimately led him to Summit Truck Group in October 2017, when he was hired as a new truck sales representative. Building a team to drive sales has always been a goal of Jordan's, as sales and working with customers are his passion, he says.