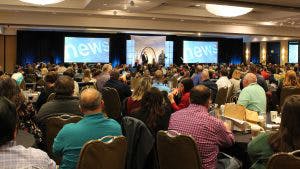 Karmak announces more than 300 attendees participating in its annual conference in St. Louis last week.
From sessions that allow clients to share best practices with their peers, to the opportunity to sit with Karmak experts one-on-one in help desk sessions, Karmak says its annual conference combined work and fun with actionable insights attendees could take back to their business.
"Our conference helps to ensure our direction is aligned with client needs," says John Pacione, president and CEO at Karmak. "We are focused on providing our clients with the best customer experience – from class-leading integrations to optimized performance and workflows. This event not only allows us to share that message with our clients, but also helps us validate our understanding of client and industry needs.  We're thankful to the over 300 people who helped make this event so valuable."
During the executive keynote, Karmak announced Xcelerate, a cloud-based Fusion solution that eliminates the need for an on-premises server.  Karmak's Xcelerate is a secure, scalable, and highly available solution which allows users to run Fusion at a fraction of the cost to host on their own server. Karmak is very excited to be the first in this category by simplifying the pricing process on behalf of their Fusion clients, the company says.
Attendees had the opportunity to see the latest and greatest in the industry at numerous booths in Karmak's Product & Services Room. Karmak's emphasis on providing clients with a rich ecosystem of industry resources was reinforced in the announcement of Unity – a technology platform that provides a secure and easy connection point for partners, OEMs, and clients to develop integrations that work seamlessly with Karmak Fusion. Unity will be available in Q2 of 2019, the company says.
Karmak Conference 2019 will be held Oct. 22-24, 2019, in St. Louis.