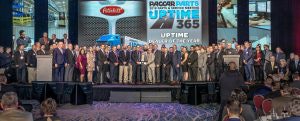 Paccar Parts and Peterbilt Motors Company held their 2018 UPTIME 365 Parts and Service Meeting last month in Orlando. The companies say the two-day agenda provided training, discussion and networking opportunities among customers, Peterbilt dealers, Paccar Parts, Peterbilt Motors and Paccar suppliers.
The event was held concurrently with the Paccar Parts and Kenworth Truck Company meeting.
Paccar and Peterbilt say their meeting began with an awards ceremony recognizing dealer achievements and performance. Award criteria was based on maximizing UPTIME, retail sales growth, parts purchase growth, absorption, Paccar MX engine technician staffing, participation in customer support programs and efforts to maximize customer UPTIME.
"These dealerships exemplify how parts and service work together to deliver UPTIME 365 support to our customers," said David Danforth, Paccar vice president and Paccar Parts general manager. "They continually exceed goals by performing at the highest levels."
Paccar Parts says following awards were presented to Peterbilt dealerships:
The Fleet Services Dealer of the Year winner was awarded to Peterbilt of Atlanta, for their outstanding support and participation in the Paccar Parts Fleet Services program.
The Special Markets Dealer of the Year was given to Rush Peterbilt Truck Centers – Nashville. They have increased their special markets sales by 11 percent over the last 12 months and have hired outside sales staff dedicated to special markets.
Coast Counties Peterbilt was recognized as the Technology Dealer of the Year for their use of several key Paccar Parts technology applications and exceptional growth year to date.
The final award given at the meeting was the Paccar Parts UPTIME Dealer of the Year award. This award recognized a dealer whose commitment to delivering service and parts programs has culminated in delivering industry-leading uptime to their customers, and was given to Rush Peterbilt Truck Center.
Over the following days, Paccar says dealers also attended parts and service training sessions on subjects such as capturing new markets and fleet and special market opportunities. Dealers also participated in interactive workshop discussions and attended the UPTIME expo trade fair, where 80 supplier exhibitors displayed their products and offered interactive demonstrations.
"This meeting was a unique opportunity for collaboration between Paccar Parts and Peterbilt," says Danny Landholm, Paccar Parts National Sales Manager – Peterbilt. "We were able to work together to develop strategies to grow our business and bring customer UPTIME to new heights."