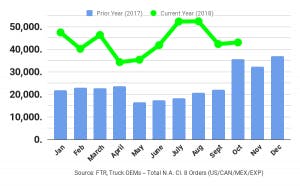 Both FTR and ACT Research released preliminary Class 8 truck orders of more than 40,000 units last month, with FTR at 43,000 units and ACT Research at 43,600 units.
This is the eighth consecutive month the North American Class 8 truck market has totaled at least 40,000 units, a record for the market. FTR says October's order total was the tenth best ever, 2 percent above September and 19 percent ahead of October 2017. ACT reports the month-over-month and year-over-year numbers as up 1.9 and 21 percent, respectively.
"October marks the one-year anniversary of the beginning of the current cyclical surge for Class 8 orders, making year-over-year comparisons narrow appreciably," says Kenny Vieth, ACT president and senior analyst. "Through year-to-date October, Class 8 orders totaled 440,700 units. In the 12 months ending October, a 12-month record 510,900 units have been booked. In 2018, October had the third strongest order seasonal factor. As such, actual data receives a substantial haircut when seasonally adjusted. On that basis, October's order intake drops to 37,800 units, down 26 percent from September."
FTR Vice President of Commercial Vehicles Don Ake adds, "October is traditionally the start of the next year's order season, so to see strong numbers now is not surprising. But ordering for 2019 began in July with back-to-back record months. For orders to still be this hefty in October after that is remarkable."
FTR says fleets continue to order a record number of trucks to secure remaining build slots in 2019. Freight volumes are now expected to be healthy well into the second half of 2019, keeping capacity utilization at extremely tight levels for an extended period. FTR says North American Class 8 orders for the past 12 months have now totaled 504,000 units.
"Fleets want to make sure they have access to new trucks, as the growing economy continues to stretch capacity," Ake says. "They continue to place a record number of orders to ensure they will have the trucks needed if freight levels keep growing. Months exceeding 40,000 Class 8 trucks had been a rare occurrence, only happening five times before 2018. However, October is the eighth month of forty-plus orders this year. Activity may start to fall off soon, as available build slots in 2019 diminish."
In the medium-duty market, Vieth says orders slipped month-over-month but remained above 2017 totals.
"Trendy medium duty order activity continued in October, with activity dipping modestly below short and long-run averages. Over the course of the past six and 12 months, orders have averaged 24,000 and 24,900, respectively. October's preliminary North America Class 5-7 net orders were up 19 percent year-over-year but down 4.9 percent month-over-month," he says.
"October is typically a strong month for medium-duty orders, so season adjustment drops the month's intake to an 11-month low 22,100 units."