California Truck Centers has added two new full service Freightliner and Western Star locations in San Luis Obispo and Santa Maria, Calif., to their dealer network.
California Truck Centers acquired the two facilities thanks to a long-time relationship with Dyer's DieselRo, a diesel parts and repair services company. California Truck Centers has renamed the stores to Central Coast Truck Center with the goal of increasing customer service and support in the Central Coast.
California Truck Centers says it is dedicated to providing its customers with the highest quality customer service possible. It strives to meet customer's needs and exceed their expectations. In opening these new facilities, the company says it is committed to work as a team to ensure each and every customer is completely satisfied with their experience.
By adding new locations to the San Luis Obispo and Santa Barbara Counties, California Truck Centers says customers will be met with the familiar family owned quality, care and elite service that California Truck Centers has offered since 1930. Currently, California Truck Centers has locations in Fresno, Bakersfield, Oakland, French Camp, Sacramento, and Ceres, Calif., with a focus on primarily serving customers in Northern and Central California. With this new expansion, California Truck Centers will be able to better serve customers in the Central Coast along Highway 101, providing sales, parts, and service to those traveling throughout the busiest Highways in California.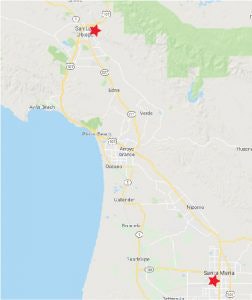 California Truck Centers says the new stores will offer customers on the Central Coast the opportunity to purchase new Freightliner and Western Star equipment as well as having access to an extensive inventory of used trucks and rentals in the dealer family. The two facilities will provide full service for Freightliner and Western Star brands, enabling customers in the San Luis Obispo and Santa Maria area to conveniently buy new and used trucks, purchase OEM truck parts and have their trucks professionally serviced.
The locations are at 621 South Smith Street, Santa Maria, CA 93458, and also at 4554 Broad Street #140, San Luis Obispo, CA 93401. For those looking to call the facilities, their phone numbers are Santa Maria: (805) 925-3900 and San Luis Obispo: (805) 541-2049.
Both locations are online as well at www.centralcoasttruck.com and at the dealer family webpage: www.californiatruckcenters.com.