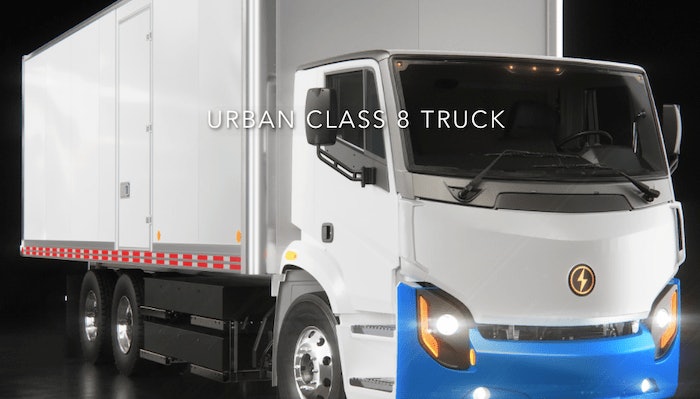 Lion Electric announced H.K. Truck Center will distribute, sell and service Lion's complete lineup of zero-emission buses and trucks in New Jersey.
Under the agreement, H.K. Truck Center will serve as the regional dealer for Lion's portfolio of heavy-duty battery electric vehicles, including its Class 5-8 heavy-duty truck offerings, as well as the LionA, LionC, LionD and LionM bus models.
Lion's heavy-duty zero-emission trucks are available in a variety of configurations, including straight truck, tractor, reefer, bucket and refuse trucks, and can travel up to 250 miles on a single charge. Lion will also provide H.K. Truck Center's technicians with extensive service training for its vehicles.
"Lion is very proud to be working with a highly respected organization like H.K. Truck Center. From the beginning of the relationship, it was clear to us that the H.K. team shared the same core values as the team here at Lion," says Marc-Andre Page, vice president of commercial operations, Lion Electric.
"Moreover, their approach, centered around customer satisfaction, really stood out as we were evaluating potential top-tier partners to support our electric truck and bus deployments in New Jersey. We are looking forward developing this relationship and deploying zero emission trucks and buses throughout the Garden State," Page says.
The move marks Lion's expansion into the New Jersey market and furthers the company's commitment in expanding zero-emission transit throughout the Northeast, in addition to its existing Experience Center in Albany, N.Y. New Jersey represents a prime market for electric-powered vehicles due to the high density of the state's population and commerce centers, and has set ambitious greenhouse gas (GHG) reduction goals aimed at reducing emissions to 80 percent below 2006 levels by 2050. Lion's presence in the market means that New Jersey school districts, transit agencies, municipalities and private freight organizations will have access to Lion's advanced fleet of all-electric trucks, school buses and transit buses for the first time — all of which are engineered and built in North America.
With over 35 years in business and nearly 3,000 total vehicles sold, H.K. Truck Center is a respected leader in the New Jersey truck dealership market. The addition of Lion's all-electric lineup signifies H.K. Truck Center's leadership in the New Jersey heavy-duty transit ecosystem and is a significant move in decarbonizing transport and freight in the Garden State. Lion's vehicles will be not only the first all-electric vehicles to be sold by the Parsippany and South Plainfield-based dealer and service center, but also represent its first move into the transit and school bus segment.
"I am excited to begin this new relationship between H.K. Truck Center and Lion Electric. This partnership expands our product line into the class 8 and bus market," says Henry Knabe, sales and leasing manager at H.K. Truck Center, "We look forward to working with a new market of customers who will lead the way into reducing greenhouse gases with all-electric transportation solutions. Both organizations are well organized, motivated and committed to providing our customers with top-notch service."