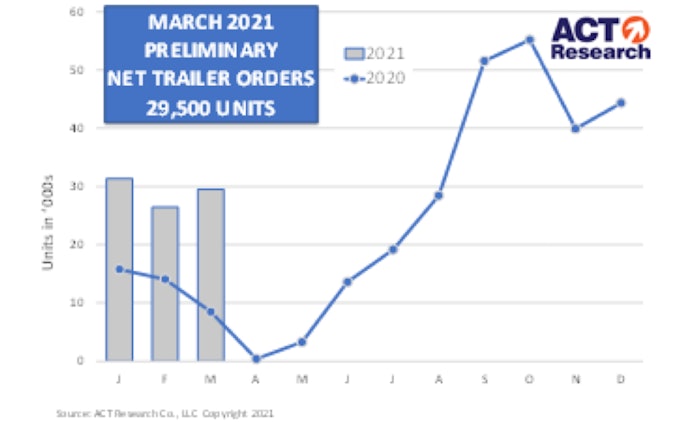 Preliminary reports from trailer OEMs indicate 29,500 new trailer orders were booked in March, according to ACT Research. FTR is reporting 27,400 units.
ACT's State of the Industry: U.S. Trailers report indicates March was 12 percent better than February and more than triple the volume seen last year, when COVID-driven pressures began to impact the market.
FTR trailer orders for March rose 6.4 percent month over month and March 2021 activity increased 20,700 units year over year. Trailer orders for the past 12 months total 346,000.
"Normal seasonal order patterns predict a month-over-month decline in net orders in March, so the rebound from February shows that fleets continue their positive expectations for the remainder of this year and into next. Initial results point to dry van orders being the major source of strength — after a normal seasonal easing in February, they bounced back to a level similar to January volume," says Frank Maly, ACT director CV transportation analysis and research.
"This solid order volume will result in further industry backlog growth. In response to those ever-growing commitments, OEMs have been struggling to increase their production levels. It appears those efforts are beginning to have an impact. This preliminary report shows them achieving a higher daily production rate in March," Maly says. "It also appears that March will post a positive year-over-year comparison for total production, the first positive comparison since July 2019. That being said, staffing challenges and component and material supplies remain a concern as production ramps."
FTR also reports a few large dry van fleets increased their 2021 requirements. In addition, flatbed and other vocation trailer orders remained steady. Orders should moderate in the coming months according to seasonal trends. Several van OEMs are nearly booked solid, and the 2022 order boards have not been opened due to materials and component costs uncertainty.
"Pressure is building up in the trailer market. Backlogs are at record levels and fleets desperately need more trailers. Capacity is very tight in some areas of the country and spot rates remain near record highs. There have been reports of shortages of flatbed trailers in some regions as the industrial and housing sectors improve," says Don Ake, FTR vice president of commercial vehicles.
"The trailer market is poised for another vibrant year. Production output is expected to have improved in March and orders beat expectations. The supply chain continues to present challenges, but OEMs are managing the best they can. We expect the supply chain to be better, but not perfect, in the second half of the year, allowing build rates to rise," Ake says.