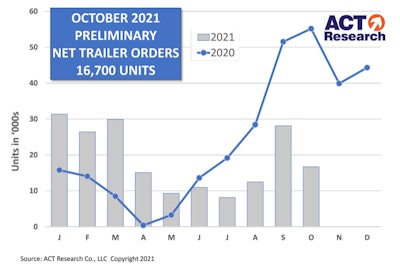 October preliminary net trailer orders of 16,700 units were down approximately 40 percent from September and off 70 percent from last year's peak order month, according to ACT Research's State of the Industry: U.S. Trailers report. FTR also reported orders of 16,800 last month.
"It's obvious that market uncertainties are preventing OEMs from commencing the industry's normal order season. Challenges of supply-chain bottlenecks, labor shortages and material and component prices are forcing OEMs to proceed very cautiously," says Frank Maly, ACT director CV Transportation Analysis and Research.
"Initial reports indicate that October build rates were similar to September. So OEMs, while able to maintain production levels and manage backlog horizons, continue to be unable to ramp efforts to meet the extremely strong and growing fleet demand for additional trailers," Maly says.
[RELATED: The smart trailer revolution is here; how to get on board]
Final October volume will be available later this month. ACT Research says this preliminary market estimate should be within +/- 5 percent of the final order tally.
The report provides a monthly review of the current U.S. trailer market statistics, as well as trailer OEM build plans and market indicators divided by all major trailer types, including backlogs, build, inventory, new orders, cancellations, net orders, and factory shipments. It is accompanied by a database that gives historical information from 1996 to the present, as well as a ready-to-use graph packet, to allow organizations in the trailer production supply chain, and those following the investment value of trailers and trailer OEMs and suppliers, to better understand the market.