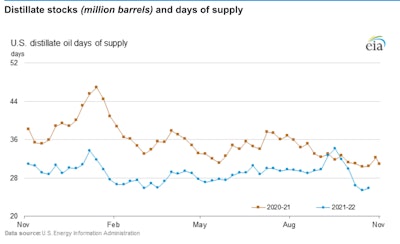 The Energy Information Administration (EIA) announced last week that distillate levels are at their lowest point since 2008, just as diesel prices crested back over $5 per gallon.
A key difference between then and now is that the 2008 dip arrived heading into summer – after peak demand in spring – rather than on winter's doorstep when there is increased demand for distillates like diesel fuel, heating oil and jet fuel. Distillate levels haven't been this low in the month of October since 1982.
Among the pains fleets feel at the fuel island, a widespread outage isn't likely to be one of them.
"Diesel supply is tight and diesel inventories are low," said Tiffany Wlazlowski Neuman, vice president of public affairs NATSO, a trade association representing America's travel centers and truckstops. "This is a structural problem, but the market is adjusting to get product where it needs to be as efficiently as possible. Absent a disrupting event, the current period of vulnerable stability can continue."
Tina Arundel, senior director of communications for Travel Centers of America, said her company doesn't have any significant concern across its 280 locations in 44 states, and is "not certain why anyone would be out of product."
"There is no shortage but the supply and logistics system is strained," said Tom Kloza, global head of energy analysis at Oil Price Information Service (OPIS), who cautioned the use of the term "shortage" in describing diesel fuel availability, adding "it's incredibly expensive," and that OPIS has confirmed pricing variances of 50 cents to $1 per gallon from customer to customer.
"I've never seen prices so tiered. The 'privileged' tier comes where a large marketer can buy at a spot index (say Platts or Argus) plus an agreed upon mark-up," he said. "We'll use the example of someone buying diesel at Greensboro [North Carolina] for Gulf Coast spot plus 7 cents per gallon. That would add up to a price (Monday) evening of about $3.70 per gallon. Most of the posted prices in Greensboro are far higher. Branded supply on Monday afternoon was available at $4 per gallon, while unbranded diesel fetched about $4.60 per gallon. In other words, for one area you might have some folks (Tuesday) paying 90 cents per gallon more (or less) than others."
Fleets and other buyers of diesel fuel are unlikely to notice any meaningful service interruption, but could continue to see some sticker shock. Since August, the average price of diesel fuel had been below $5 per gallon for six of 14 weeks, but rocketed from $4.83 per gallon the week of Oct. 3 to $5.22 the week of Oct. 10, and reached $5.31 Oct. 31.
"Short answer is there's very little slack in the supply chain," said Zach Wall, senior vice president of sales and marketing for fuel supply and logistics provider Mansfield Energy, "so the shortage could cause intermittent runouts to allow time for consumers to go to Plan B if/when something falls through, and potential cost overruns associated with securing product through extraordinary means. But if buyers have the fortitude for higher prices, they'll likely be able to secure product as necessary."
Mansfield Energy issued an alert last week for East Coast fuel markets, citing "diesel supply constraints due to market economics and tight inventories. Poor pipeline shipping economics and historically low diesel inventories are combining to cause shortages in various markets throughout the Southeast."
Morgan Palmer, media relations specialist for Love's Travel Stops, said the company is actively monitoring the fluid situation on the East Coast but "isn't currently experiencing outages." Love's relies on sibling companies Musket and Gemini to secure and deliver product to the company's more than 510 locations.
Low inventory levels noted by EIA do, however, leave retailers and consumers exposed to sudden increases in demand or decreases in supply. "For example, if a major refinery shuts down for a period of time, or it gets unseasonably cold in the northeast," Wlazlowski Neuman theorized, "the cause for concern could increase."
Hopefully, Kloza said, things ease a bit in the early part of November as refineries in Canada, Texas, Louisiana and Illinois restart, "and there is motivation to make as much diesel, heating oil and jet fuel as possible."
"The problem with 106 million bbl (often cited as 25 days) of inventory is that much of it is inside the refinery gate or in the pipelines," he said. "At the 357 terminals that OPIS tracks around the country, there might typically be a day or two's supply."