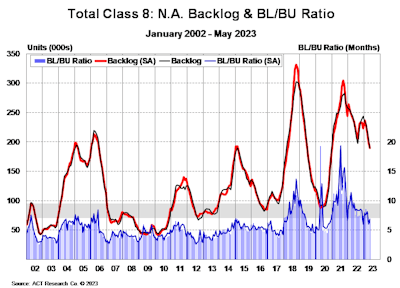 Order cancelations in the Class 8 truck market moderated last month as the backlog continues to dissipate, ACT Research announced in its most recent State of the Industry: North American Classes 5-8 report.
ACT Research states cancelations, coupled lower seasonal demand and order boards still closed for 2024, are enabling OEMs to make headway into their backlog, says Vice President and Senior Analyst Eric Crawford.
"May's backlog met expectations, down 13,900 units month over month to 189,200 units. The backlog-to-build ratio decreased 30 basis points month over month to 6.7 months (7.0 seasonally adjusted)," Crawford says. "Heavy-duty and medium-duty production were essentially in line with build plans. May's Class 8 build rate was a healthy 1,343 units per day, representing the ninth month in the past 12 where build rate exceeded 1,300 units per day."
Crawford says that data is good news for sales, which remained robust overall in May, up 14% year over year to 29,700 units. He adds that is a seasonally adjusted average of 357,000 units. "Seasonally adjusted, sales have exceeded 29,000 units in five of the past six months. Classes 5-7 retail sales were up 26% year over year at 22,800 units," he says.
Looking ahead, Crawford adds ACT expects positive momentum to slow in second half of 2023, mostly in the fourth quarter.
"Already, one of the critical components of heavy vehicle demand, carrier profitability, is increasingly under pressure. In Q1, the public carriers' profits declined to levels last seen in early 2020. While some of the decline was seasonal, public TL carrier margins were down 250 bps year over year. With contract rates expected to deteriorate into Q4, profit margins should continue to narrow," he says.