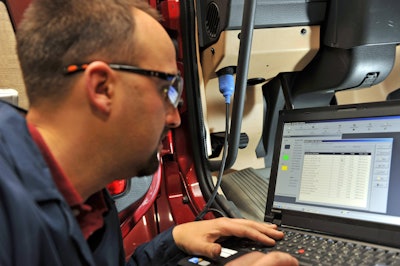 Bendix Commercial Vehicle Systems LLC recently celebrated the 50,000th download of its Bendix ACom Diagnostics software.
The diagnostic software helps fleets and technicians diagnose, repair, troubleshoot, and recalibrate components that form Bendix's antilock braking, stability, and tire pressure monitoring systems.
Bendix developed the ACom Diagnostics software in 2004. The software is a Microsoft Windows-based program that interfaces with the vehicle and reduces steps in the troubleshooting process by directing the technician straight to the diagnostic trouble code for an efficient repair, the company says.
Continually updated, it covers newly released and most earlier generations of both tractor and trailer electronic control units (ECU) from Bendix.
The latest version of the Bendix ACom Diagnostics software, 6.10, builds upon successful past versions. It includes added features and functionality for the software's support of SmarTire Tire Pressure Monitoring System (TPMS) by Bendix CVS, such as easier navigation. ACom Diagnostics 6.10 supports Microsoft Windows 7, 8, and 10 operating systems.
"Ensuring that technicians have fast and easy access to the latest diagnostic tool is always top of mind for us, so they have at their fingertips constantly evolving software designed to troubleshoot and correct any issues quickly," says Scott Burkhart, vice president – sales, marketing, and business development at Bendix. "We share the same goal with technicians and their fleets – keep all trucks running with the safest braking, active safety, and TPMS systems possible. This is part of our philosophy of supporting our customers after the sale throughout the life of the product."
The company says statistics show that the Bendix ACom Diagnostics software has been downloaded approximately twice an hour around the clock every day since the beginning of 2016.