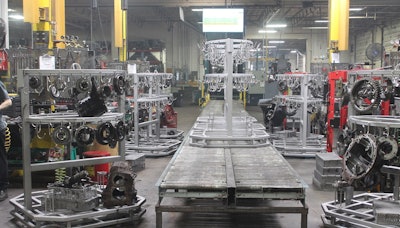 [This article was originally published in 2020 by Trucks, Parts, Service. It has been updated to include more timely information.]
In an industry where maintenance costs rise each year and truck owners increasingly are hunting for the best deal, remanufactured products can be a godsend for parts distributors. Quality remanufactured products offer performance capabilities equivalent to many genuine aftermarket parts at a fraction of the price and are available for some of the most common wear parts on today's medium- and heavy-duty trucks.
But selling reman product lines also requires parts providers to commit to being more than the final step in a distribution channel and a key member of a product supply chain as a core supplier. For businesses that exist to move product outward, that extra work can be a challenge.
Fortunately for the aftermarket, core tracking and remanufacturing experts say it doesn't take much to turn core management from an oft-overlooked revenue reducing enterprise to a sustainable profit center.
With a few tweaks here and there, parts distributors who shore up their core business can increase their bottom line by tens of thousands of dollars per year.
Employee engagement
"When I think about core management, the No. 1 thing that comes to mind for me is your people need to see cores as real money. They can't view cores as junk or trash, or one level above junk and trash," says John Ferry, executive vice president, Turbo Solutions. "One thing I used to do when I was at TransAxle was if there was a core on the ground and nobody was paying any attention to it I would put a $100 bill on it and see how long it sat on the floor. It wasn't long. My point to the people was: 'That core is worth $100. It's really cash. We have to look at it in that manner.'"
Ferry says he tries to convey that message when working with Turbo Solutions' distributors.
He says all too often aftermarket businesses fail to educate employees about how much money is invested in cores and, as such, employees fail to prioritize cores when engaging with end users. Ferry says counter associates should always request cores from customers during relevant sales and should note when customers purchase a component that comes with a core charge.
Other employees have core responsibilities as well.
[RELATED: The importance of e-commerce sites during a parts shortage]
"Are your delivery guys asking for cores, are they picking them up every day?" Ferry asks. "If your delivery driver isn't picking up cores because he doesn't know to, or because he doesn't want to, that's costing you money."
Workplace prioritization
When overhauling a distributor core program, convincing employees to value cores is only half the battle. Distributors also must develop processes within their operation to track core activity to make sure any eligible core credit is received.
"For any remanufacturing program to work there has to be a reliable supply of cores and distributors are always going to be the best source for that," says Tom Hilmes, general manager, remanufacturing, Ceramex North America. "If we have a core shortage we can always rely on core brokers and other suppliers, but we would prefer our distributors send our cores back to us."
Many remanufacturers use comprehensive tracking software that can alert distributors to how many outstanding cores they have, their value and when they are required to be returned, says Matt Pagni, vice president, Level Seven Reman Solutions.
That's how business works at Bendix, says Henry Foxx, director, remanufacturing.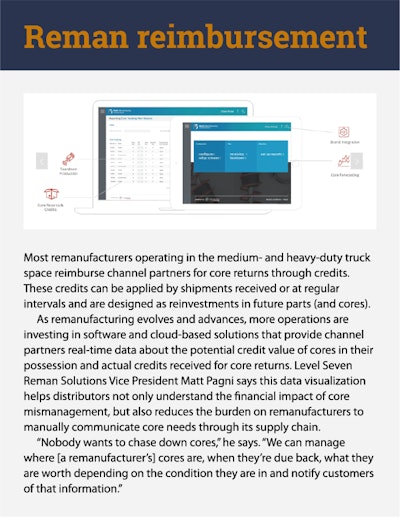 "We provide [channel partners] with an ongoing, updated core status report recapping how many cores are owed back or are expected to be returned," he says. "When channel partners lose sight of those figures, we help them solve that issue; that's often when you start seeing mishandled cores."
[RELATED: Supply chain woes hit salvage market with increased parts demand]
Ferry says this information can be invaluable at the distributor level because it quantifies exactly how much money is lost by poor core processes. But he adds information alone will not improve a core return policy.
Distributors also must alter their business to prioritize cores. This can require developing a central location to receive and store inbound cores, building a consistent core return shipment schedule and delegating an employee to notify coworkers or customers of upcoming core deadlines.
Core evaluation
Because cores equal money, remanufacturers say distributors should treat them with the same care they would show for new components. The better condition a core is in when it's returned, the more money a distributor will receive.
Foxx says Bendix encourages distributors to check the Core Center on its website to understand the impact condition has on crediting decisions. He says the site tells customers exactly what they should be looking for in cores when they are returned.
"We use that same guide when they return the core to Bendix," says Foxx. "It's important that everyone is on the same page so that when the channel partner gives their customer a credit, they will then receive the same value from us."
Valley Truck Parts Owner Gary Troost says all too often distributors return damaged cores expecting a full credit. Like Bendix, Troost says Valley tries to inform distributors to inspect cores as soon as they are received to ensure they "are not heavily damaged and are rebuildable."
Adds Hilmes, "We ask our customers, as a best practice, to send their cores back as soon as they can. We don't want them being set aside and forgotten, or damaged."
Ferry says it's also a good practice for distributors to note the condition of cores when they are received from end users. A customer's profitability also is impacted when they return broken or failing parts.
"Everything comes back to culture," he says. "If your foundation is not strong relative to cores, nothing else will work."