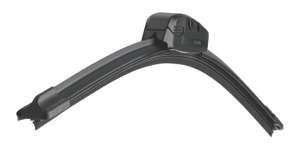 Bosch has released a new wiper blade program for heavy-duty vehicles, comprised of 19 part numbers.
Bosch says its wiper blade program offers 85 percent coverage of Class 3-8 heavy-duty vehicles on the road in the U.S. and Canada, including International, Peterbilt, Kenworth, Mack, Ford, Nissan, Volvo, Mitsubishi and more.
"Bosch has been supplying wiper blades and systems to original equipment manufacturers (OEMs) and the independent aftermarket (IAM) for more than 80 years now and has pioneered some of the most advanced technologies in this category, with the most recent being 'bracketless' or 'beam' blades," says Timo Reif, vice president, product marketing, Automotive Aftermarket North America, Robert Bosch LLC. "By introducing this wiper blade program for heavy-duty vehicles, Bosch is bringing its long-standing experience in advanced wiper blade technology to yet another key market segment."
Blade sizes available are 13- to 26-inch Bosch Direct Connect wiper blades and 16- to 26-inch Bosch Evolution beam wiper blades for both driver and passenger sides.
Along with the introduction of the blades, the company rolled out its 2014 Heavy Duty Wiper Blades Catalog.