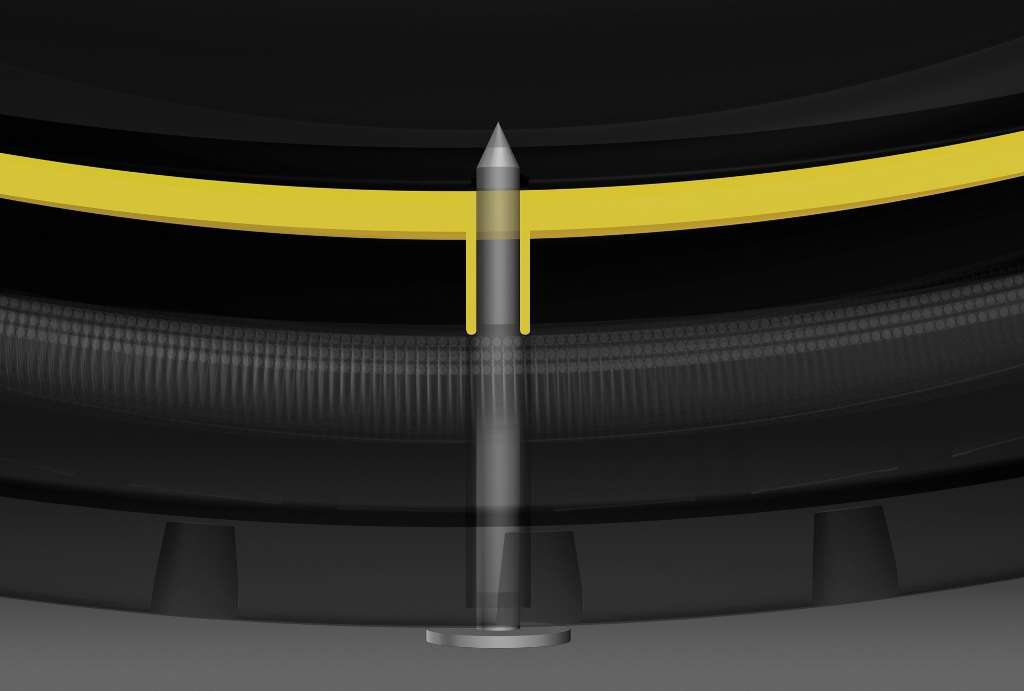 Goodyear has released its newest technology, its DuraSeal product line.
Goodyear says its new DuraSeal technology is a gel-like substance that is built into a tire's casing at the time of manufacturing, and instantly seals nail-hole punctures of up to a quarter-inch in diameter in the repairable area of a tire's tread.
"Goodyear's DuraSeal Technology not only keeps trucks up and running, which helps prevent expensive downtime and helps fleets reduce their overall operating costs," says Todd Labbe, general manager, commercial retread, Goodyear Commercial Tire Systems. "It also is fully retreadable to help deliver DuraSeal's benefits through multiple casing retreads."
DuraSeal Technology's unmistakable yellow color can help retread plant technicians identify tire punctures during the initial casing inspection phase.
"Each casing that enters a Goodyear Authorized Retread plant is both visually and electronically inspected before it proceeds to the next step in the retread process," says Labbe. "This is an extremely important function. The presence of DuraSeal in the tire's casing can make punctures more visible to the technician. These punctures can be properly repaired by Goodyear Authorized Retreaders."
The fact the Goodyear's DuraSeal Technology is built into the tire's casing during the manufacturing process is another advantage, the company says.
"One of the many features that makes Goodyear's DuraSeal Technology unique is its gel-like composition," said Labbe. "Unlike other sealants, DuraSeal doesn't have to be removed or re-applied when a worn casing is finally ready to be retreaded, which contributes to time and cost savings. Casing integrity is key to effective retreading," says Labbe.
"Goodyear recommends that fleets start with a premium-quality casing if they want to extend the lifespan of their tires and truly optimize the return on their tire investment through retreading."
Goodyear's DuraSeal Technology also can help prevent tires from running under-inflated.
"Running a tire under-inflated can significantly damage the casing's overall integrity, which may prevent it from being retreaded," says Labbe. "Maintaining correct inflation pressure levels is one of the most important things a fleet can do to help preserve casing integrity."
Goodyear offers a full range of DuraSeal truck tires for a wide variety of applications, including long-haul trucks, waste haul trucks, construction vehicles and more.