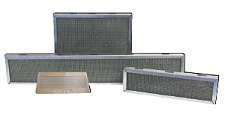 The Racor Division of Parker Hannifin Corporation presents its new Moisture Ember Separators.
The Racor Moisture Ember Separator (MES) protects the downstream air filter from embers using a combination of unique flat and crimped metal screens constructed into a galvanized steel frame, the company says. A multi-layered screen design traps embers and allows them to burn out before passing through the pack, while creating only minimal air flow restriction through the system.
Racor says the separator is specifically designed to help separate hot embers from entering the engine intake, and with more than 20 options available, they can fit a variety of applications.