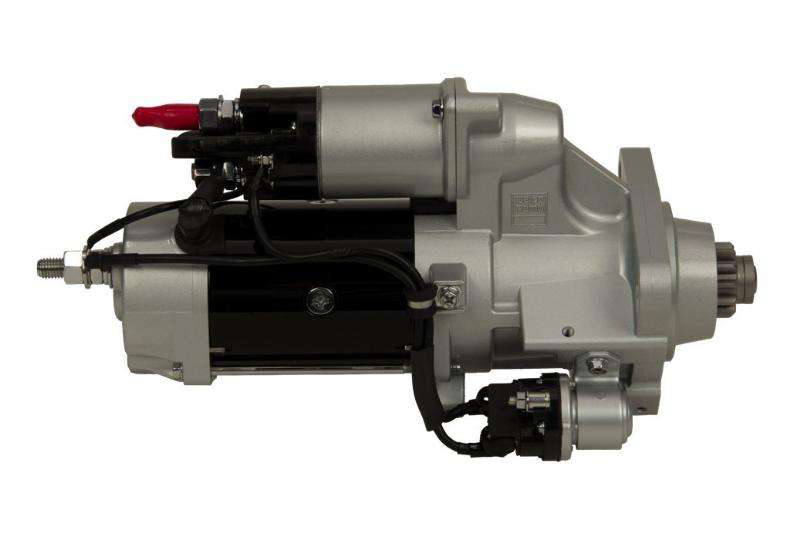 Remy International, Inc. introduces the Delco Remy 38MT+ heavy-duty starter.
With the addition of the 38MT+, Remy now has a starter for every application in the North America truck market.
The 38MT+ (P/N 8200977), which is designed to fit Paccar MX 11 and 13 liter engines, and packs the punch of leading Delco Remy starters like the 39MT and the 44MT, but in a unit that is smaller and lighter, the company says.
"We took all of our learning over the last decade that we had from the 38MT, 39MT and 44MT and built this newest model with the same level of cranking power and reliability — but in a smaller, lighter frame," says Randy Andis, director of aftermarket operations. "It gives our customers a solid alternative for Paccar engines."
Delco Remy says key features and benefits found on the 38MT+ heavy-duty starter include:
Integrated Over Crank Protection (IOCP)*, a built-in circuit breaker that protects the starter from thermal damage and automatically resets at a safe operating temperature while eliminating the need for a wiring harness.
Integral Magnet Switch (IMS) that reduces voltage drop and ensures the solenoid receives the maximum available voltage in any starting condition.
Electrical soft-start to consistently and accurately engage the pinion with the ring gear, providing increased reliability.
Warranty options, including non-OCP model with 1 year/unlimited miles and integrated OCP model with 3 years/unlimited miles
Remy says the 38MT+ also gives customers a choice, where they didn't have one before.
"We're excited to be able to offer the market a new product for applications where there were previously size and output constraints," says Daniel Boros, Director of HD Truck, Bus and Export. "Now we have a solution for all major North American OE truck applications. It's a great success story — for Remy and our customers."