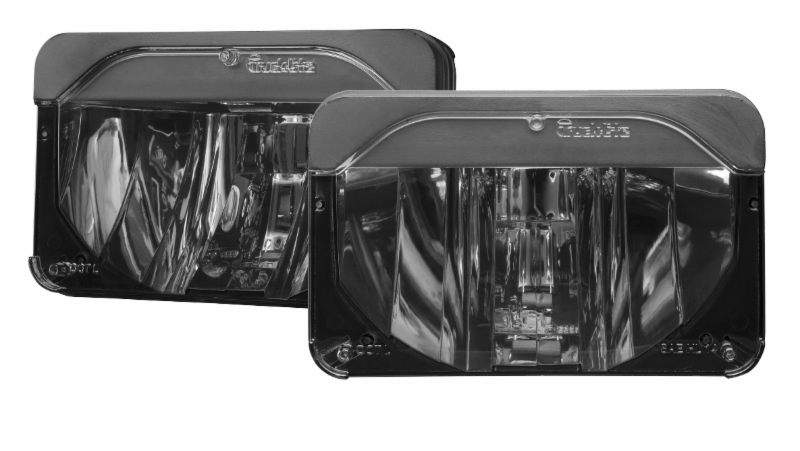 Truck-Lite introduces its latest advancement in the LED forward lighting market, the 4 in. x 6 in. (165mm) rectangular LED headlight system, a drop-in replacement for 1A1 and 2A1 sealed beams in most applications.
This advanced lighting system is the follow up to the widely popular 7-in. round and 5 in. x 7 in. headlights, which currently stand as the best and lowest cost systems in the market, Truck-Lite says.
Truck-Lite says it expects this new headlight system to be met with the same enthusiasm.
"The thing that excites me about the new 4×6 LED headlights is the world-class beam pattern and the low cost. Truck-Lite continues to work towards reducing the cost and improving the performance of our products. You'll find we were able to do both with this new system," says Brad Van Riper, senior vice president and chief technology officer.
Made possible by developments in new technology, Truck-Lite says the new system will offer the industry's best beam pattern, with improved width and longer reach. The new, high-performance design will couple superior performance with an extremely lightweight build.
"Our goal is to get LED lighting and its safety benefits into as many vehicles as possible. Truck-Lite received feedback from the market that there was a demand for this, and we're thrilled to respond so quickly, and with such a high-caliber product," says Brian Kupchella, president and COO.
With the release of the new system, Truck-Lite says it is bringing the benefits of LED lighting — longer life, better lumen maintenance, and improved color — to a wide variety of new applications. A multi-volt (9-33v) design ensures that the 4 in. x 6 in. LED headlight system works with any vehicle that utilizes industry standard 4 in. x 6 in. cutouts. When properly mounted, the headlights exceed FMVSS-108 and CMVSS-108 DOT requirements for both low and high beam performance, the company says.