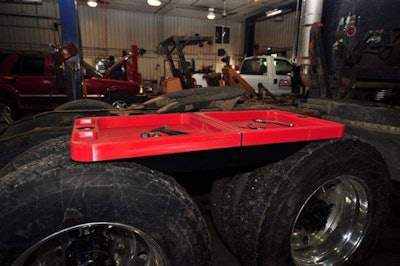 Checking in at No. 2 in our countdown is Minimizer's tandem axle work bench, which debuted in June.
Introduced as part of the company's new maintenance line — and ahead of its single tire work bench — the tandem axle work bench features two removable tops along with a deep base and can hold up to 300 lbs. of parts and tools, the company says.
"For years, we've had repair shops ask us to make something like the Tandem Work Bench," says Minimizer CEO Craig Kruckeberg. "They were always having problems with tools falling off the truck, or bolts rolling off the tops of tires. This saves space when you're working on an engine teardown. Now you have room for everything you need."
To read the original release in its entirety, please CLICK HERE.
And with that, we are down to just one. Please check back tomorrow as we release the most popular new product release of 2015.