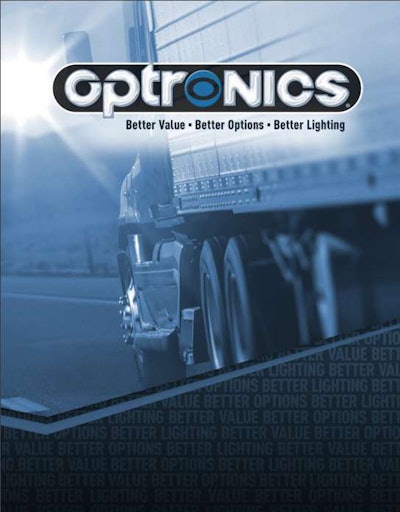 Optronics International has released its new 2016 lighting products catalog.
Optronics says the redesigned 308-page catalog features 400 new products and more than 3,400 total SKUs. It is scheduled to begin shipping on or about Jan. 20, 2016, and is available now as an interactive, searchable PDF on the company's website.
Since its last product catalog was released in 2014, Optronics says it has been prolific with its introduction of new and innovative LED products. Among the new offerings is the innovative, LampLock LED anti-theft stop, tail, turn and marker/clearance lamps; ONE LED single-diode line, high-style GloLight line; Fusion LED combination tail and backup lamps and Opti-Brite work lamps.
The catalog also includes 63 products within Optronics' ONE LED single-diode line, including new tail, backup and RV lamp applications. Optronics' ONE LED lamps cost just twice the price of inexpensive incandescent lamps, but provide the equivalent of 50 times the service life, the company says.
"Optronics continues to set the pace for innovation, diversity and choice within the vehicle lighting industry, and the marketplace is responding," says Brett Johnson, president and CEO at Optronics. "The new products we've introduced in just the last three years now represent 20 percent of our overall sales."
In the 2016 catalog, Optronics also is highlighting expansions within a number of well-established product lines, and new white LED lighting products.
"Optronics is dedicated to delivering better value, better options and better lighting to the vehicle lighting marketplace," Johnson says. "The price competitiveness, diverse lighting alternatives and stellar product quality represented in our new 2016 catalog underscore our resolve to meet our objectives."
Single diode LED warranty expansion
The company also declared an expansion of its unique no-hassles, one-diode warranty policy that will now cover all LED lamps being sold by Optronics, including all LED headlamps, LED work lamps and its venerable Panelite Millennium Series. The warranty guarantees that if even one diode fails during the course of a lamp's operation, Optronics will replace that lamp with a new one, the company says.
"The expansion of our no-hassles single-diode warranty policy significantly increases the value of every LED lighting product in our new catalog," says Marcus Hester, vice president of sales and marketing. "There is not a better lighting company nor a better lighting value in the vehicle lighting marketplace."