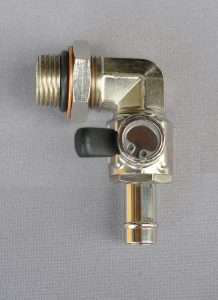 Global Sales Group introduces a 90-degree version of its EZ Drain Valve designed to drain engine oil, gas/diesel fuel, transmission oil, coolant and water.
According to the company, the angled valve is engineered for cramped spaces and requires less than 40 millimeters of space to install. The drain's direction can be adjusted, with a lock nut providing full adjustment of the valve's final position, providing operators with installation flexibility and added draining options.
The angled valve also features the same locking mechanism and ball valve design as its predecessor, as well as an O-ring design and nickel-plated exterior, the company says.