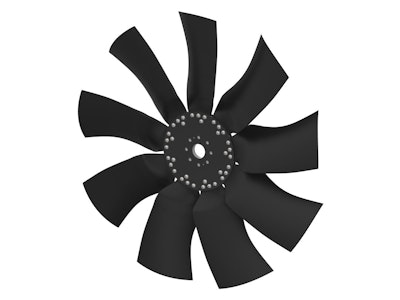 Horton announces two new offerings that enhance its expanding product portfolio – the HTEC 1800 fan and RCV1000 fan drive.
Horton says the new products provide engine-cooling solutions for customers in the off-highway industry seeking increased productivity, fuel efficiency, reliability and noise reduction.
HTEC 1800
Development of the Horton Thermoset Engineered Composite (HTEC) 1800 fan follows closely behind the HTEC 2500, which was launched June 2015. HTEC fans combine industry-changing material technology with Horton custom engineering capabilities to meet and exceed cooling requirements. Not a thermoplastic, this patent-pending structural thermoset delivers several benefits including increased efficiency, a higher temperature and speed rating, best-in-class durability, corrosion resistance, reduced fuel consumption, significant noise reduction and compatibility with Horton Modulator Fan Drives for variable-speed control, the company says.
Horton's HTEC 1800 fan has been engineered for rigorous off-highway applications including large mining trucks, remote radiator packages, generator sets and fracking units. The HTEC 1800 fan is available in diameters of 47 to 72 inches, weighs 30 lbs. and up, and has a maximum tip speed of 22,000 ft./min.
RCV1000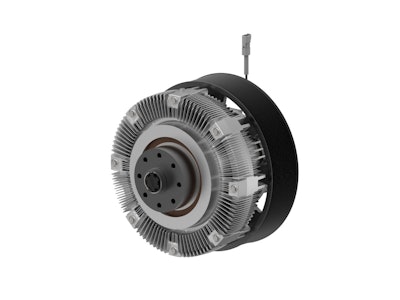 Another new offering from Horton is the RCV1000, a variable fan drive that is a smaller version of its RCV2000, previously launched in 2015. The RCV1000 is engineered to use with the HTEC 1800 fan and provides precision cooling for large-bore diesel applications including mining trucks and power generators. Several features enable the RCV1000 to deliver maximum cooling efficiency such as greater heat dissipation, an innovative reservoir, actuator and valve system and an optimized magnetic design that speeds reaction time, increasing modulation and cooling. Featuring a simple wiring configuration, the full-range variable speed control reduces operating noise and lowers fuel costs, the company says.
"Horton continues to listen to its customers and focus on delivering the best solutions to meet their needs for demanding applications in the off-highway market," says Manish Virmani, vice president of Global Market Development for Horton. "Adding the HTEC 1800 fan and RCV1000 fan drive to our growing product portfolio offers our customers more industry-leading options when it comes to engine cooling solutions."