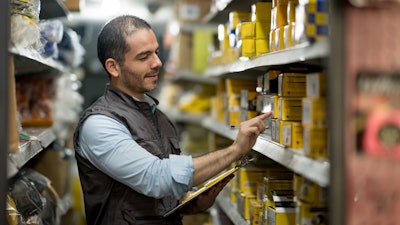 The last few years have been wild ones for purchasing managers. Extreme parts demand and fractured global supply chains forced purchasers to scour the supplier community for new vendors and lines to keep warehouses stocked and customers running.
Unable to count on sufficient, or even consistent, order fulfillment rates, buyers became dependent on piecemeal, multivendor sourcing tactics to meet inventory requirements. For most, the strategy worked. Inventories in 2022 haven't been as homogenous as historical norms, but overall distributors still found a way to support the strongest stretch of freight growth in years.
Now, with freight softening, fulfillment rates steadily improving and vendors starting to express confidence in their supply chains for 2023, distributors finally have a chance to catch their breath and figure out what exactly they've been buying the last two years.
A great way to do that is through cycle counts.
Unlike a conventional inventory audit, which often take days and can require a business to close, a cycle count is a perpetual inventory process. Cycle counts don't reveal a full inventory assessment in a few days, but they can be conducted during business hours. And because a cycle count can run on an auditor's cadence, they can be scheduled to provide multiple inventory counts per year.
Cycle counts should be considered in parts departments for several reasons.
A yearly physical inventory count conducted between Christmas and New Year's may provide an optimal assessment of an inventory for year-end financials but it doesn't reveal much about a business's turn rate. Cycle counts are more enlightening because they're ongoing, says KEA Advisors' Jeremy Smallwood.
"Accuracy off the shelf is the biggest eye opener," he says. "When you're only doing inventory annually, it's hard to be confident you know what you have."
[RELATED: Six tips for reducing parts staffing productivity]
Smallwood says he advises clients to conduct cycle counts "at least quarterly," but they can be done more often if necessary. A cycle count cadence ultimately depends on how much time a business wants to dedicate to counting inventory each day. When building a cycle count strategy, says KEA Advisors' Kent Ely, it's important to not be overwhelmed by big picture numbers.
"It's like the old adage, 'How do you eat an elephant? One bite at a time,'" Ely says. "If Jeremy comes in and tells me I have to count my full inventory and that's 20,000 part numbers, it's easy to think, 'How am I going to do that?' You have to break it down ... If you have 240 bins to count [and] 60 days in a quarter. That's four bins a day. Then it becomes more manageable."
Adds Smallwood, "You can start small too. Maybe the first day you only count 10 part numbers. Then you expand a little bit more each day. It doesn't have to be full bore, all the time. It just has to get done."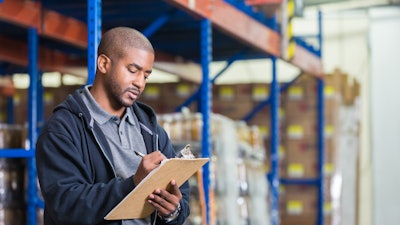 When he worked in a dealership, Smallwood says his parts department was assigned a new, randomly chosen list of parts to cycle count each day and associates spent the first 15 to 20 minutes of each shift counting components. Smallwood says the time of day doesn't matter as much as the routine. Employees who know they are expected to complete a cycle count daily will make time in their routine to do the job.
The KEA Advisors' duo says employers shouldn't fear springing cycle counts on their workforce either. Counter people and warehouse pickers want their inventory to be accurate and they will put the effort into counting inventory daily if they understand the benefits it provides. They add when employees begin to lose confidence in inventory totals presented by their computer systems, their uncertainty can weaken customer interactions.
"It says we have two but I'm not sure" is never a statement a counter person should make toward a customer, Ely says.
"How much better is your counter person's performance going to be if every time he goes the warehouse the part is exactly where it is supposed to be?" Smallwood asks.
Cycle counts also enable parts departments to be more proactive with ordering modifications — both by identifying product line demand shifts and uncovering lines where obsolescence may become an issue. Cycle counts detect ebbs and flows in demand as they occur. Ely says for parts departments relying on vendor managed inventory (VMI), those insights are valuable because they may not otherwise be available.
"With VMI you may not always know what's on the shelf before an order is placed," he says.
Cycle counts drive improvements in fill rates as well as a regular check against computer records. Smallwood refers back to the counter person who questions his own computer records when speaking to a customer. He says cycle counts catch inventory discrepancies quickly, reducing instances in which a sales associate promises delivery of a part he actually doesn't have.
"How many times are customers walking away from your business without the part they needed to fix their vehicle?" he asks. "You want that number to be as low as possible."
Finally, there's the simple value of organization. Cycle counts aren't just audits, they're also regularly scheduled warehouse cleanings. Misplaced parts are identified and put into proper positions; high-moving lines are tidied up with inventory totals verified. And because they're ongoing, no segment of a warehouse ever goes more than a few months without being evaluated and organized by an associate.
"You can't stress enough how valuable getting a warehouse in order can be," Smallwood says. "Everything in a parts department falls into place when a warehouse and inventory are right."