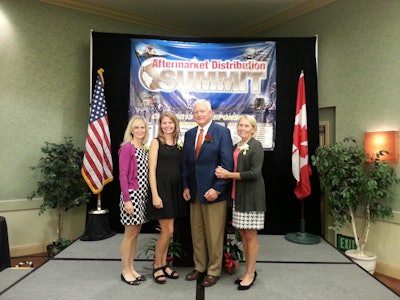 John Minor, executive vice president at Midwest Wheel, was presented with the prestigious CVSN President's Award during the opening session of the Aftermarket Distribution Summit Monday in Santa Rosa, Calif.
A 44-year veteran of the industry, Minor was honored for his work at Midwest Wheel and leadership in the aftermarket industry.
"I want to say thank you to CVSN," says Minor. "It's hard to believe 44 years have passed by so quickly.
"I have the best job on the planet, and I work with the best people. I am truly blessed to work for Midwest Wheel and Callison family."
Minor entered the aftermarket working for a distribution facility in his native Minnesota, and moved to Iowa to work for Midwest Wheel in 1972. He was named general manager of the company's Des Moines location in 1980, and was later promoted to vice president.
Even after winning the award, Minor remains focused on the road ahead.
"I am excited about the future of this industry and look forward to the new challenges," he says.
Earlier this year, Midwest Wheel Companies were named the Truck Parts & Service 2012 Distributor of the Year award winner.