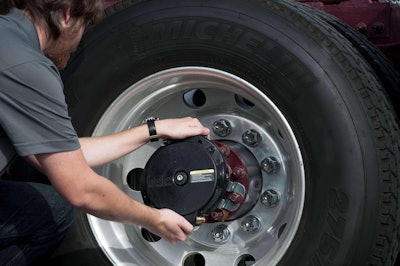 Velociti Inc. and Aperia Technologies have announced a new partnership.
Under the agreement, Aperia will make Velociti's project management and deployment services available to its customers for the installation of its Halo.
"We place a premium on our customers' experience," says Josh Carter, CEO and co-founder of Aperia. "With Velociti, we found a partner for deployment and project management services that has the same customer service mindset. While it only takes minutes to install Halo, the successful coordination and management of a fleet deployment can enhance and accelerate the ROI for our customers."
The Halo Tire Inflator can be used on drive axles of medium- and heavy-duty trucks and on trailer axles. Velociti deployment services include hardware staging and configuration, installation using trained technicians, inventory management, documentation and post installation technical support, the company says.
"Even the simplest of installations requires project management and deployment services," says Deryk Powell, president of Velociti. "Even when an installation is easy and technicians have the skills to do the work effectively, managing the project is time consuming and using internal resources impacts shop productivity. By leveraging the capabilities and experience of our deployment services, Aperia's customers will generate cost savings and a faster return on investment."
In addition to its Halo Savings Calculator, Aperia customers now also have easy access to the Velociti ROI–Savings Calculator at https://aperiatech.com/subscription_terms/, the company says. The online tool uses data on fleet size, expected monthly savings per unit, labor cost to install a technology, and the anticipated installation timeframe. The tool then generates the additional savings that can be realized by using Velociti's deployment and project management services, the company says.