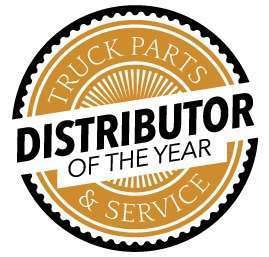 The open nomination process for the 2015 Truck Parts & Service Distributor of the Year award will begin in less than two weeks.
Beginning on Monday, March 30, 2015, interested parties will be able to nominate the aftermarket's best for our annual award.
Now in its 14th year, the Truck Parts & Service Distributor of the Year program attempts to recognize the best businesses operating in the heavy-duty independent distributor marketplace.
The nomination period will be open from March 30 through June, and anyone is eligible to submit a finalist for the award. Submissions can include up to three businesses. The five aftermarket businesses with the most nominations will be named finalists for this year's award.
All independent aftermarket businesses but 2014 winner Six Robblees' are eligible for the award.
Truck Parts & Service is thrilled to announce finalists for the 2015 award also will be offered an extended free trail of RigDig Business Intelligence. RigDig is a data-driven program that provides business intelligence on more than 900,000 trucking entities operating in the United States. It includes fleet and owner-operator data, CSA data, vehicle spec'ing data and more.
For more infomation about the Distributor of the Year program, please CLICK HERE.