Your customers loathe downtime. Every minute their trucks sit cost them in lost revenue and maintenance expenses.
Which is why when you quote them three hours on a repair, they aren't thrilled to find out it's going to take six.
While no repairs are exactly the same every time, your prices can be. Through labor rate standardization, you can offer customers consistent labor prices and ensure them that no matter what obstacles occur while a truck is in your bay, their costs will be the same.
While that doesn't eliminate their anguish over a six-hour repair, it definitely can help alleviate it.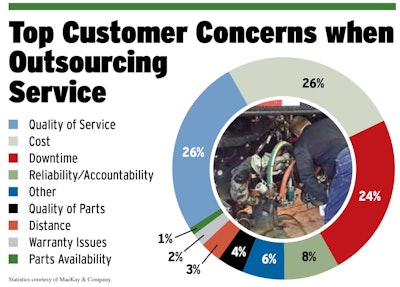 And by putting a positive spin on a negative situation, it can increase a customer's likelihood of coming back again.
"For us, [standardization] is really about doing something for our customers and in their best interests," says Mike Delaney, president and CEO at WheelTime. "It allows us to offer them reassurance that they know what to expect from our members when they come to us."
Delaney says in labor standardization was one of the main reasons WheelTime was established more than a decade ago. The 18 founding members saw value in service consistency and stability when acquiring and maintaining customers, and wanted to be able to offer those benefits on a larger scale.
"Our members wanted to share best practices and work on common objectives together," Delaney says. "Standardization was one area where they saw an opportunity to do that."
The concept of labor standardization is simple.
A service provider selects a number of commonly requested or commoditized service requests and, through market and operational research, sets organizational benchmarks for completing each repair.
These standards — one hour for a clutch recalibration, for example — are then used as universal billing benchmarks for all future service requests for that repair.
Delaney says three important guidelines to remember when looking at
the viability of standardization in your operation is available repairs, technician performance and implementation.
Standardized repairs should be repairs you know your techs can perform and you know your customers need. Preventive maintenance and simple parts installations are repairs ripe for standardization, but specialized service is not immune to normalization.
Any service your business is capable of completing at a consistent speed and level of performance can be standardized, says Sean Ryan, vice president at Point Spring & Driveshaft.
Services where your operation lacks consistency or expertise should be avoided.
When selecting a repair for standardization it's also important to consider the team you'll rely on to perform the service.
If you only have two techs capable of performing a specific repair, it's probably not a good idea to offer that service at a standard rate. Conversely, training technicians to perfect a certain repair may allow you hit an average labor time, but unless you can ensure you'll always have your facility staffed with those technicians, standardization might not be in your best interest.
Implementation matters, too. Once you've created a standardized repair time everyone has to know.
Employees must be educated on the services you are now providing at standardized rates and be properly trained to perform within those parameters.
Technicians must be up to date on the tools and technology they need to their work, while parts procurement staffers should focus on stocking a healthy inventory to guarantee each repair timeline can be met.
"All of our techs know exactly how to do the jobs they are assigned," says Mark Rubini, president at Toledo Spring. "We make sure they are trained so they know what to do."
"We give our parts and service people a lot of flexibility to order parts overnight if that is necessary," adds Ryan.
From there your customers have to be notified.
Delaney says WheelTime actively promotes labor standardization rates across its network of nearly 200 North American facilities.
"We work to educate and inform our members about all of the ways we can serve them," he says.
When devising a labor standardization plan it's also important to note a service provider's the financial commitment.
A well-built plan requires an upfront investment in research and training, and an ever present financial burden that appears when repairs fail to be completed on time.
It's not something to commit to if you're not willing to do everything it takes to make it work.
Because ultimately, while labor standardization can benefit service providers and customers, it is only after the latter commits that the former reaps its rewards.
The customer's acceptance drives the program.