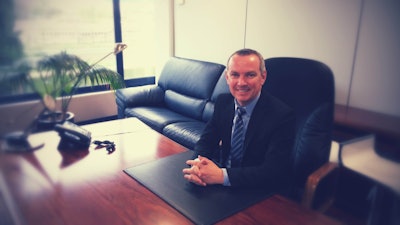 Bergstrom Inc., has promoted Christophe Barreau to managing director of No-Idle products in North America.
In his new role, Barreau will have full responsibility for the company's successful North American No-Idle product lines – a product line Barreau was instrumental in creating in the early 2000s. It includes the battery-powered NITE (No-Idle Thermal Environment) Phoenix and NITE Plus as well as several OEM applications, the company says.
"Christophe is a talented leader who will be a great asset to our NITE team in North America," said Gus Anton, division president of Bergstrom's North American operation. "We see great potential in the work he can do for the no-idle product line and we're thrilled to have him join us in the U.S."
Barreau started at Bergstrom in 2001 at the company's European facility in Ystrad Mynach, Wales. In 2002, he transitioned to the Rockford, Ill. plant where he was instrumental in the launch of Bergstrom's battery powered no-idle system as well as business development for the aftermarket sector. He then shifted his focus to OEMs and eventually became the program engineer at Freightliner for Bergstrom's factory-installed ParkSmart system. In 2012, Barreau relocated to Madrid, Spain to focus on business development, program management and process implementation for Dirna Bergstrom. While there, he showed great initiative in expanding Bergstrom's no-idle business in Europe, the company says.