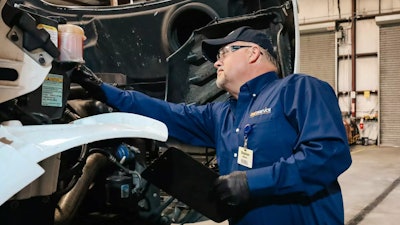 Transervice
Supply chain issues have resulted in the aging of the nation's truck fleet and have caused more fleets to look at contract maintenance as a way to keep their vehicles operating properly. This is both good news and bad news for leasing companies.
COVID and contract maintenance
Leasing company experts don't think the COVID-19 pandemic is directly responsible for the increased interest in contract maintenance. Rather the resulting supply chain issue that lead to OEMs allocating new trucks was the driver behind the heightened interest in contract maintenance on the part of both fleets and leasing companies.
"Salespeople don't have much to sell as most leasing companies have already filled their entire 2023 order board allocations," says Lance Bertram, Idealease senior vice president, sales, marketing and distribution. "One thing they still can sell is contract maintenance. So, you will have lease salespeople looking to sell that product."
But Bertram is quick to point out that from a leasing company's perspective, aging equipment is not a good fit for contract maintenance. "As equipment gets older, it is difficult and risky to try to guarantee a maintenance cost over an extended length [of time]."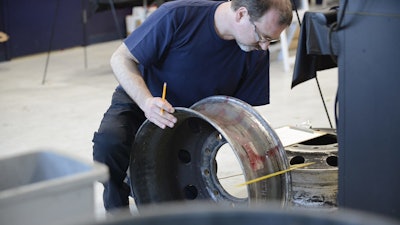 However, Joe Gallick, senior vice president of sales, NationaLease, thinks the supply and demand environment "is likely to keep demand for contract maintenance high. The demand will be from companies that had not previously outsourced."
Doug Adamson, senior vice president of sales and marketing, Transervice, a fleet leasing and management company, says he is seeing interest in contract maintenance "from companies that swore they never would outsource. They want a more prescribed maintenance program and more of a process with preventive maintenance on a scheduled basis to catch anything that is wrong on the truck."
[RELATED: Why customer transparency is vital in developing a contract maintenance program]
He adds, "As trucks are aging, fleets need help with maintenance. The people we are talking to are realizing the technician shortage, the training involved, and the technology needed to maintain the trucks is not their core business, so they are looking to outsource maintenance and repair."
One benefit of offering contract maintenance is it enables a leasing company to get a foot in the door at a fleet and begin a relationship with them. When contract maintenance relationship is built, it helps the fleet to see the leasing company as a viable alternative for other services and can lead to full-service leasing, Gallick says.
One of the biggest challenges to a leasing company offering contract maintenance is finding qualified technicians. But beyond that, in a contract maintenance agreement, the leasing company takes on more risk. "When a contract maintenance decision is made, the customer and the provider exchange risk for value," Gallick says. "As trucks get older, repair cycles are more difficult to predict," he adds, and that means more risk for the leasing company.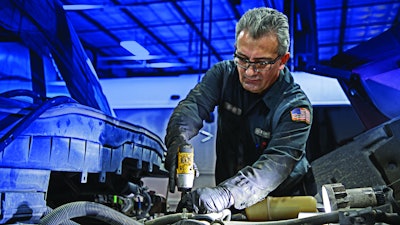 Good news and bad news
Adamson says contract maintenance "is a way into a company. We start doing contract maintenance and hopefully it will progress into something more."
Bertram says, "The customer [of aging equipment] loves the idea of contract maintenance. They see their costs going higher and higher and they look for ways to guarantee future costs.
"However, the lessor loses interest in contract maintenance as the fleet ages," Bertram adds. "It's all about who holds the liability for major repairs and that's a liability that no one really wants."
And Gallick notes as trucks get older there are repair causes that are more difficult to predict. "There are certain things that we have learned and are more comfortable predicting," he says. "Both the leasing company and the customer have to go into the discussion with their eyes wide open." The leasing company must understand what it can predict and give a price on and what it can't predict and therefore has to be dealt with based on an hourly rate and the cost of the parts needed.
[RELATED: Class 8 order boards open; September hits all-time order record]
Bertram adds especially with older assets: "Most lessors are willing to put trucks on a pegged maintenance program that does not guarantee a cost structure." Those programs only guarantee a parts price and a labor rate. "In that sense, it is not much difference than sales and service," he explains.
The purpose of a contract maintenance program is to even out the annual cost of maintenance from a budgeting perspective, Bertram explains. Determining rates becomes more challenging as assets age.
"As trucks have become rolling computers, the need for maintenance expertise has increased considerably," he says.
That is not going to change and time soon, but it will be a challenge for leasing companies to develop contract maintenance programs that are profitable while at the same time meeting the customer's needs.