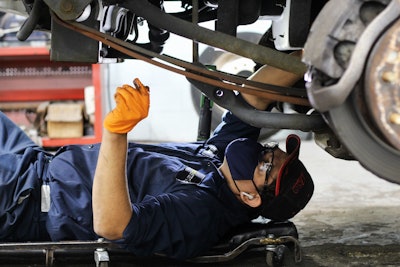 One of trucking's most fundamental maintenance events is evolving. Thanks to substantial advancements in engine design, aftertreatment functionality and oil versatility, many of today's newer medium- and heavy-duty trucks are capable of oil drain intervals twice or nearly three times as long as trucking's long accepted 25,000-mile standard.
For commercial fleets and truck owners, this interval extension is a fantastic development. Extended oil drain intervals save money and reduce downtime. But for the service sector, especially those that rely heavily on preventive maintenance (PM) stops as a revenue stream, extended oil drain intervals can cost shops business.
Oil companies acknowledge that's an unfortunate development for service shops. But they also note while many newer trucks may have been designed to weather extended oil drains, not every truck in operation is an ideal candidate for change. Fuel economy and duty cycle remain the largest variables in setting an oil drain schedule and, along with professional oil analysis, oil companies say all three factors should be considered by a truck owner before they choose to amend their PM schedule.
For service shops committed to customer service, oil companies say collaborating with a customer and lubrication expert to evaluate and set an optimized oil drain interval is a great way to strengthen a business relationship — even if that might mean fewer PMs each calendar year.
A truck's age and engine specs are the first factors to consider when setting an oil drain interval. Shawn Whitacre, Chevron senior staff engineer, says that while oil drain intervals have been rising for a decade, engines produced before the EPA's Phase I fuel economy and greenhouse gas regulations went into effect in 2010 are unlikely to be able to extend intervals much, if at all.

"Truck engine designs from the early 1990s to 2010 were heavily influenced by increasingly stringent pollutant emission standards that brought about the use of retarded injection timing, exhaust gas recirculation, higher pressure fuel injection and other design factors that together put greater stress on the oil due to increased soot loading, more acid generation and higher temperatures," Whitacre says. "During that time, we saw oil drain intervals pull back some."
[RELATED: When the EPA comes after you]
Since reversing that trend, intervals have risen steadily. The introduction of American Petroleum Institute (API) CK-4 and FA-4 heavy-duty diesel engine oils in 2016 was a major step toward longer oil drain intervals, says Darryl Purificati, OEM technical liaison at HollyFrontier Lubricants & Specialties, which includes the Petro-Canada Lubricants brand.
"The latest engine oils are more resistant to oxidation and have increased shear stability and lower viscosity (specifically the FA-4 category), which leads to lower engine oil flow resistance in the engine and a reduction in fuel consumption, while still offering excellent levels of wear protection," Purificati says. "This enhanced protection, as well as the ongoing transition to lower viscosity engine oils, has demonstrated the potential to extend drain intervals.
"In fact, when the API CK-4 and FA-4 oils were introduced, many engine OEMs boosted oil drain intervals for newer engines by as much as 15,000 miles, under certain conditions and duty cycles."
Regarding duty cycle, oil companies say linehaul carriers running newer equipment in level terrain are the best candidates for extended intervals, though many carriers with newer equipment but older PM procedures likely also can extend their intervals. Whitacre says 50,000 miles is a "reasonable average" for newer truck engines, adding "oil life is most greatly affected by fuel burn so, generally, higher fuel economy translates into longer oil drain intervals."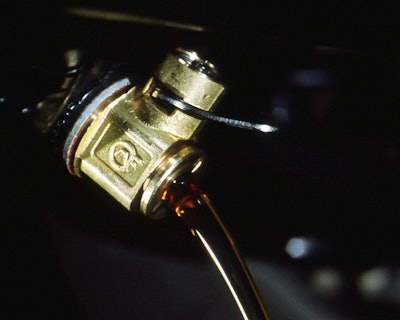 Oil companies also note OEM oil drain recommendations generally account for duty cycle, which means customers who follow manufacturer guidance should be close to their optimal drain interval when they take ownership of their equipment. But in the aftermarket, not every second or third owner is aware of their OEM recommendation. Oil companies say that's where oil analysis is vital to help identify how well an oil is performing in a specific application and set a proper interval.
"In most cases if a customer follows their OEM recommendations they can't go wrong" with their drain interval, says Shell's Karin Haumann, OEM technical manager, Global Solutions. Unfortunately, not every second and third owner is as rigid at following OEM guidelines as their predecessors. "Oil analysis solves that. It enables us to see what the right oil is for the customer and their application, as well as the correct interval," she says.
Purificati agrees, adding oil analysis can "help identify mechanical issues and problems before they become too serious or expensive to repair."
[RELATED: Selling your customer on fleet maintenance analysis]
It's on that note that experts warn of the catastrophic risks associated with extending drain intervals erroneously. Whitacre says while changing oil prematurely leads to "throwing away good oil" and unnecessary downtime, extending intervals too far can lead to more serious issues being missed because a truck isn't hitting a service bay enough.
That's why oil companies ultimately note oil drains — at whatever interval selected — should still be tied to other PM tasks.
"There are often other preventative maintenance services that need to be conducted on a more frequent basis than the oil change, so it is always good to look at the bigger picture to synchronize these service events in the most efficient way possible," Whitacre says.
Adds Haumann, "Extending intervals often can enable [customers] to coordinate oil changes with other scheduled maintenance."