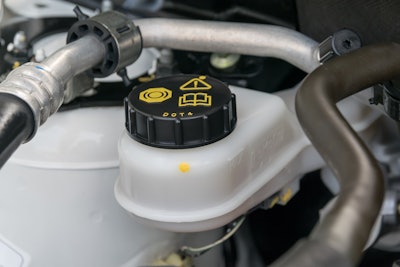 The U.S. Department of Transportation (DOT) and National Highway Traffic Safety Administration (NHTSA) announced Monday a formal notice and request for comments on the reinstatement of a previously approved collection of information regarding specific labeling requirements for manufacturers and packagers of brake fluids, as well as packagers of hydraulic system mineral oils.
In its formal announcement Monday in the Federal Register, DOT and NHTSA stated the need to increase the amount of information printed on existing labels for brake fluids and hydraulic system mineral oils to educate purchasers and vehicle owners.
[RELATED: Delo debuting new 15W-40 synthetic]
"The information on the label of a container of motor vehicle brake fluid or hydraulic system mineral oil is necessary to ensure: The contents of the container are clearly stated; the source and packing identifiers are labeled; the fluids within the container are used for their intended purpose only; and the containers are stored correctly and not re-used when empty," the request for comment states. "Proper vehicle brake performance is crucial to the safety of motor vehicle occupants and protection of property. Without this labeling requirement, there could be improper use or storage of these brake fluids, which would have dire safety consequences for the operators of vehicles or the equipment in which they are used."
The organizations state federal motor vehicle safety standards (FMVSS) enable this rule making, as "manufacturers of motor vehicles and items of motor vehicle equipment subject to the FMVSS are required, by 49 U.S.C. 30115, to certify to the distributor or dealer that the vehicle or equipment complies with the applicable standards. Certification of equipment may be shown by a label or tag on the equipment or on the outside of the container in which the equipment is delivered."
NHTSA estimates the total annual burden to manufacturers and packagers of brake fluid or hydraulic system mineral oil would be approximately 8,000 hours for more than 70 million labels. NHTSA also predicts total expected cost burden would be $80,500 for the industry, as "labels are a standard part of fluid containers ... there is no additional cost to affix the labels that include this information." All additional costs would come from incremental increases in ink, paper and label materials.
Requests for comment on this proposal can be submitted online at www.regulations.gov, via fax, mail or hand delivery until July 1, 2022. All submissions must also include the agency name and docket number for this notice and all comments received will be posted without change to the regulations website.