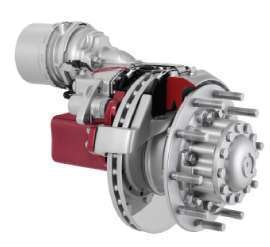 Disc(uss) the benefits
Air disc brakes are gaining traction, and that can be good news for all concerned
By John G. Smith, Contributing Editor
info@wordsmithmedia.ca
Air disc brakes promise everything from shorter stopping distances to quicker maintenance procedures, but their benefits have been limited to a relatively small share of wheel ends on vehicles used in North America.
Indeed, specialty applications like the fire trucks and refuse vehicles that are using these brakes are the exception rather than the trucking industry's rule. Most heavy-duty trucks use enlarged S-cam drum brakes to meet the National Highway Traffic Safety Administration's recent cuts to allowable stopping distances.
The next round of cuts scheduled to take effect in August 2013 — covering all 4×2 tractors and severe-service tractors with Gross Vehicle Weight Ratings above 59,600 lbs. — will largely be met the same way, says Dan Philpott, Meritor's engineering manager – air disc brakes.
In spite of that, the number of fleets experimenting with air disc brakes is growing, particularly as fleet safety managers look for performance benefits that could be used to help improve CSA safety ratings.
"They [experimenting fleets] very much liked what they found — significant improvements in lining life and significant improvements in feel," says Gary Ganaway, director – marketing and global customer solutions for Bendix Spicer Foundation Brake.
The systems also perform well in the face of high temperatures, which come with harsh duty cycles. Today's allowable stopping distances are measured at 250˚F, but temperatures in the real world climb much higher than that.
The benefits hardly end there. The disc designs are less prone to fading because they deliver a consistent amount of friction as temperatures rise.
And the brakes boast a low and consistent hysteresis, which is a measure of how well the components release after being applied, Bendix Spicer notes in The Compelling Case for Air Disc Brakes in Heavy Truck Braking.
"Where there are high duty cycles and you have to do regular lining changes, [fleets] are looking at the disc brake as being more interesting because of the quicker pad change," says Steve Bell, Bendix Spicer's engineering manager – wheel end air disc brakes. The pads on a disc brake can be replaced in about a quarter of the time that it takes to replace friction material on an S-cam drum brake.
Today's systems certainly are more reliable than earlier generations that were first introduced in the 1980s.
Early disc designs, actuated with a single power screw or wedge, had their share of problems.
The power screw designs applied well but had trouble releasing. Exposed chrome-plated slide pins were prone to flaking, corrosion and seizing.
Calipers were attached to the pads and subjected to unwanted clamp loads and brake torque. Single-piston system designs faced uneven pad wear, while undersized 15-in. rotors were prone to cracking, and exposed components had to be lubricated regularly.
Reliability has improved thanks to twin-piston designs with internal adjustment mechanisms, as well as direct-mounted air chambers, Philpott says, noting how the twin-piston designs load the pads more evenly against their respective rotors.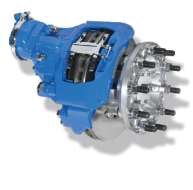 "The direct-mount air chambers take away any sliding seal surfaces we used to have with external lever-type brake designs," he says.
Of course, converting a truck to disc brakes is no small matter for vehicle engineers. "Difficulty comes in several ways, but one thing that sticks in my mind is the difficulty in packaging air disc brakes with existing suspensions and axle combinations," says Curtis Dorwart, Mack's vocational marketing product manager.
"Many suspensions and axles on the market today were developed for S-cam brakes. Clearance for brake chambers and other components, as well as increases in brake torque, can drive change in areas where you might not expect it," he says.
"You can't necessarily take a highway brake and put it on a vocational truck and expect wonderful wear and performance," he adds. "The duty cycles are different, and that is where sizing of the components and managing the friction come into play."
But some manufacturers might find it easier to install disc brakes rather than testing and tweaking S-cam designs to meet the changes of 2013, since many of the affected vehicles are sold in relatively small volumes, Philpott says.
As simple as the equipment may be to maintain, it still represents a learning curve for those who work in the shop.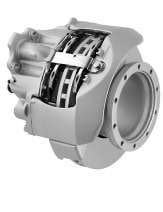 "Disc is a bit of a game changer," Dorwart says. "Where are the slack adjusters? You don't have that very familiar component in the system."
"The air disc brake is a very low-maintenance brake, however, it is not a no-maintenance brake," adds Bell.
Technology and Maintenance Council's Recommended Practice 652 covers many of the related procedures.
The simplified maintenance requirements are partly due to the seals that protect internal workings. "We've got rubber boots that attach to tappets and guide pins, and if those are inspected regularly — and 'regularly' meaning whenever the wheels are off —and [if] those are replaced when they get holes in them, the brakes will last for an awfully long time," he says.
But if any holes are left exposed for too long, water and de-icing compounds can find their way into the brake and cause unwanted corrosion, ultimately preventing the caliper from sliding as freely as it should.
The damage to the seal can be caused by everything from road debris to a technician who probes the parts with a screwdriver, Philpott observes.
The rotors, meanwhile, need to be inspected for their own signs of wear, and should be replaced if any crack is 75 percent longer than the rotor's surface or reaches an edge, Bell says.
But the biggest change in the service bay will likely come in the form of quick pad replacements.
A technician can unbolt the retaining strap, de-adjust the brake, pull out the pads and replace the friction material in 15 minutes, compared to the hour spent on the linings of a drum brake. Technicians also must be careful not to change the pads that still can offer plenty of service.
Technology can offer part of the solution to premature replacements. Matt Creech, Meritor's brake business manager, refers to a standard visual wear indicator on the caliper, which allows wear to be inspected without removing the wheel. Meritor's Pad Wear Warning Indicator can be added to the wiring harness to give fleets an electronic means to closely monitor the life of pads.
A closer focus on wear can be particularly important since many buyers turn to disc brakes because of the promised return on their investment.
"A properly engineered disc system cannot only stop very well, it also can reduce the frequency of relining when compared to the S-cam. That can add up to some serious dollars over the course of a few months or years," Dorwart says.
The equipment can even make a difference in the parts department, since one set of pads can fit every disc brake from the steer axle to the trailer, Ganaway says.
But jobbers need to look beyond size alone. Low-quality replacement pads and rotors can lead to issues like noise, shorter pad life, cracked rotors and uneven wear.
Cheaper pads also may not deliver the required friction, Bell explains. "All this work into getting reduced stopping distances can be going out the window with inferior aftermarket pads."