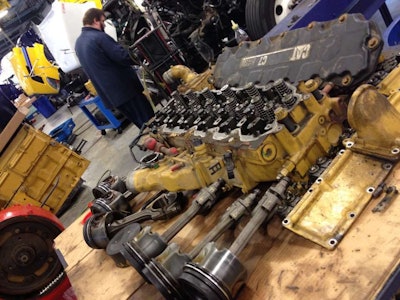 Idle hands are the devil's playground.
Idle trucks are hardly much better.
In an effort to keep trucks rolling service shops nationwide are getting creative with their customer bases and, in some cases, putting their money where their mouth is.
This week Volvo Trucks North America launched its Uptime Protection Plan, offering a credit for qualifying repairs that cannot be completed within 24 hours.
Customers registered with Volvo Uptime Protection Plan are reimbursed $100 per day for each day up to five for each warrantable engine repair not completed within 24 hours from the time of diagnosis. Reimbursements will be offered to the customer on a Volvo debit card that can be used at any Volvo Trucks dealership toward the payment of service, parts or accessories.
"Our customers need their trucks up and running and our dealers need their customers to be satisfied," said David Pardue, Volvo Trucks vice president of aftermarket solutions. "Both are critical to their respective bottom lines."
American Truck Showrooms, a dealer in used heavy-duty trucks, offers a similar plan on its inventory. The dealership offers to make a truck payment for any driver whose warrantable repair takes longer than eight hours in one of the dealership's repair shops.
"If the truck's not moving, it can't make money," Nolan Saucier, General Sales Manager for ATS says. "We won't penalize a driver for having to sit in our shop for an extended period of time."
Volvo's Uptime Protection Plan bundles together the Ride Assured pre-purchased preventative maintenance with extended warranty coverage to offer comprehensive service plans.
ATS's waived payment method is part of the company's bumper-to-bumper warranty offered on all trucks sold at the lot.
"We're a little different in that regard," Saucier said of the company's willingness to waive payments for extended repairs. "A bank, or like with a truck on lease, they want their money regardless. We understand that if you can't drive it, you can't pay for it."