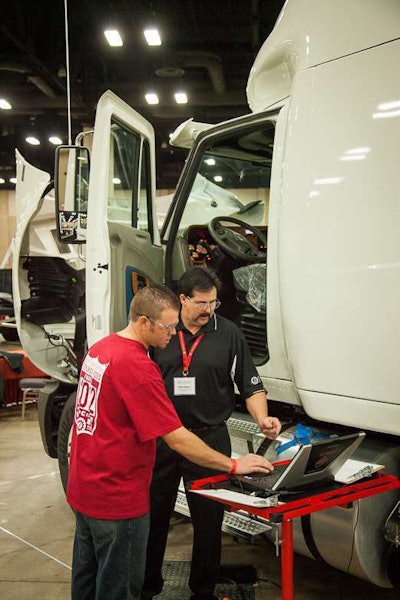 Two fleet heavyweights told supplier attendees during a panel discussion at last week's Heavy Duty Dialogue in Nashville, that their technicians are aging and retiring in numbers too quickly to replace.
Our technician workforce is graying and aging probably faster than our driver workforce,"  Dwayne Haug, executive vice president equipment purchasing, Werner Enterprises said.
The skills required to maintain and repair trucks are also changing rapidly compound the issue.
Charging systems and A/C systems used to be the number one and two areas needing the most attention, Russ Thompson, vice president of equipment purchasing and shop operations, Swift Transportation said.
"Now it's emissions systems," he said. "It's far more complex. You'd better be an expert in 200 areas today."
In order to adapt, Thompson says Swift has become "an intense training company", with about 1,000 technicians who took about 30,000 online courses last year.
Changes Swift and Werner see coming include a greater shift toward automatic transmissions. With the trend toward down-speeding of engines to improve fuel economy, "you're going to have to have an automatic," Thompson said. "I see them becoming more and more prevalent, not less."
"With the fuel systems that we have today and the splits for the transmissions we definitely see it coming on the horizon," Haug agreed. "But it goes to our trade cycle. We still have some work to do on the front end to make it affordable but we also need to look at the secondary market," he said. "We're trying to spec for 4-5 years down the road."