Adarryl Matthews, express assessment coordinator at Peach State Freightliner in Forest Park, Ga., has won a Snap-on toolbox in a Daimler Trucks North America (DTNA) contest promoting its Express Assessment Program.
"It feels pretty good. I know technically I won but I think of it as an actual prize for the dealership," he says. "It gives us a chance to show the rest of the country we're doing well."
Technicians were asked to send DTNA a picture of technicians working in an Express Assessment bay, and answer a three-question survey on the Express Assessment program.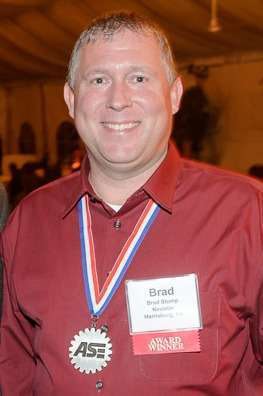 Five Star International diesel technician Brad Stump was recently named Navistar/ASE Master Medium/Heavy Truck Technician of the year.
This achievement is awarded to the top scorers on Master Automotive Service Excellence (ASE) Certification Tests.
The ASE Master status involves a series of tests that assesses six major categories: automobile, collision repair, medium-heavy truck, school bus, transit bus, and truck equipment.
Honorees are sponsored by OEM and aftermarket segments, who take test scores and on-the-job excellence into consideration when determining the final winners.
Stump was sponsored by Navistar, Inc.