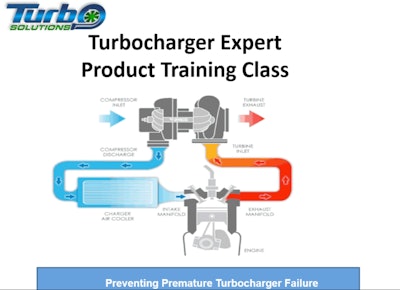 GenNext's latest educational webinar today, "How to Kill a Turbo," explained why turbochargers fail as well as how to ensure they have a long life. Ty Hagy and John Ferry of Turbo Solutions explained the causes of and how to prevent turbo failure.
Turbocharger failure can cause loss of power, increased noise, wheel rub on housings, damaged turbine or compressor blades, oil leaks and engine damage.
The webinar outlined several possible reasons for turbocharger failure, among them are poor quality oil or oil contamination, dirt or foreign object damage and improperly maintained aftertreatment systems.
"You have to have a good running engine for a turbocharger to survive. Improper or infrequent service, meaning oil changes, air filter changes and the general service of the engine can damage turbos pretty quickly," Hagy says. Oil is the main culprit behind turbocharger failure, he adds.
"We like to say the metal doesn't lie. When we take a turbocharger apart, the parts inside tell the tale. We're going to see evidence that will tell us how that turbo failed," Hagy says.
For example, scratched up bearings indicate dirty oil; bearings that appear whitish green indicate the oil has been contaminated by coolant, and oil contaminated by diesel fuel will result in a distinct odor and bearing wear.
Oil leaks are a common problem among modern turbochargers that run at really high pressure differentials, which can be caused by a dirty air filter, a clogged diesel particulate filter (DPF) or malfunctioning exhaust gas recirculation (EGR) system, to name a few.
Pieces of carbon in EGR valves, for example, can break away and cause damage to the turbine side of the turbocharger, Ferry says. "And a clogged EGR will cause a turbocharger to work overtime and prematurely wear out. A blocked DPF prevents exhaust gas from passing through the exhaust system at the required rate and … will create back pressure," he says.
Turbo Solutions also outlined recommended installation practices, which includes understanding why the turbocharger failed, such as contaminated oil, foreign objects or overheating; preparation, which includes replacing oil, filters and cracked or chafed lines and hoses; and then installation, which involves ensuring no dirt enters the oil or air paths of the turbocharger, correctly positioning O-rings and gaskets and verifying engine oil is at proper level, among other steps.
"The real highlight here is we want the technician to disconnect their injection system and with the turbocharger installed but the oil line not connected to the turbo, crank the engine over to get all the new oil pumped up through the line and flush out all the old oil … then connect your oil line, then connect the injection system and fire it up," Hagy says. "At that point your turbocharger is primed with brand new oil and all those parts inside are ready to go and live a long life."