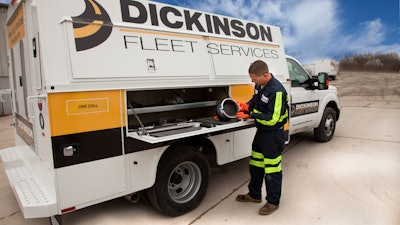 [This article was originally published in 2021 by Trucks, Parts, Service. It has been updated to include more timely information.]
It's 7:02 a.m. when the first customer calls. He's down. Parked on an exit ramp 10 miles away and tells you he can't get any closer. He's not sure what's going on, but he knows he needs your help. You hang up the phone and a minute later another customer is on the line. She can't even get her truck started. She says it ran fine yesterday but today, well, today is very much a different day.
What do you do?
For a growing number of service shops in the trucking industry this answer is changing. Tow trucks are still vital resources for anyone operating a service bay, but in an era where uptime is everything, more and more service providers are choosing to expand their service capabilities with mobile service trucks. While the advantages of mobile service may be becoming obvious, the path to entering the business is not.
[RELATED: Mobile service, whatever you want it to be, can be profitable]
Building a viable mobile service operation requires service providers to perform careful market analysis of exactly how much potential business exists in a market and how it can be captured. It requires an innate understanding of what types of repairs can be performed outside of a service bay, as well as the conditions in which technicians can reasonably attempt them.
It also requires a very tricked out truck.
According to several experts providing mobile service today, properly outfitting a service truck is an essential step in building a viable mobile business. Sending a truck directly to a unit down customer for service can potentially shave hours or days off their downtime, but only if the truck and tech are prepared for the job. Nobody wants to hire a mobile service provider if they don't save a customer money or time.
For service shops intrigued about mobile service but unsure about how to outfit a truck, below are three essential questions to answer.
What type of service will you offer?
Not all mobile service providers or their capabilities are created equal. Some providers focus exclusively in the high-margin unit down roadside repair space; others prioritize fleet maintenance, providing simple repairs and PMs for carriers during off hours. Whether choosing the former, latter or both, experts say the jobs a mobile technician will be doing should determine how they upfit their truck.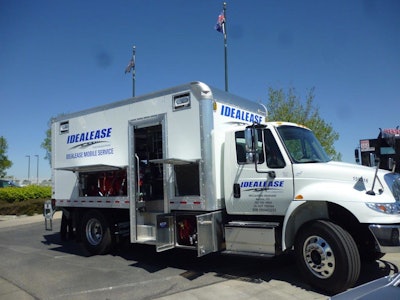 At Idealease, Vice President of Maintenance and Safety Dave Helge says he's created a comprehensive yet customizable spec'ing package that is leveraged by members nationwide. Helge says the package is diverse enough that dealers offering different services or operating in different regions can order unique trucks, but still includes consistent corporate branding and hundreds of features all mobile service trucks require.
"Our spec is locked down pretty hard," he says. "We evaluate it every year and will make changes if necessary, but we've designed these trucks to look the same and come out of the upfitter's facility ready to go right into service."
Understanding customer demand for mobile service also helps ensure a service provider doesn't over- or under-design their first vehicle. A truck outfitted for complex roadside emergencies can still do PM work, but a pickup designed for the latter won't be any good dealing with the former.
Brian Conkle says he had that exact scenario in mind when outfitting Fyda Freightliner's first mobile service truck in 2020.
"We wanted to make the truck as capable as we could," says Conkle, service manager at Fyda's Pittsburgh, Pennsylvania, store. "Being new to the [mobile service] scene, we wanted to show our customers everything we could do because we knew they would be interested."
The strategy paid off. Just a year after starting the mobile service, Conkle says approximately 70% of Fyda's mobile work is roadside breakdowns.
There's also the matter of storage space. Mobile trucks aren't designed to run parts, but they still need to be able to carry the components necessary to complete their work each day.
What systems and tools do you need?
Conkle's strategy of spec'ing for every reality makes sense for a service provider who wants their mobile unit to be comprehensive in scope at launch. But as a mobile service division grows, many experts say designing additional trucks for specific service tracks is a good way to minimize vehicle costs and maximize fleet efficiency.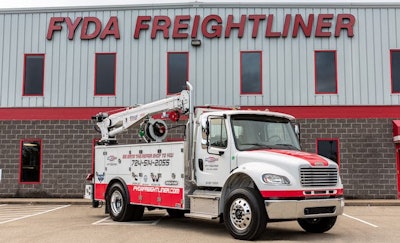 Kyle Coltrain was vice president of Dickinson Fleet Service before it's acquisition by Cox Automotive Mobility, where he serves as senior director of operations. He says Dickinson's technicians who provide emergency repairs are equipped with truck featuring a full suite of diagnostic tools, as well as heavy-lift equipment such as cranes, generators and other tools that would be available in a service bay.
Technicians tasked with simpler tasks such as PMs and replacing wear components generally have smaller trucks. These units still feature hand tools and essential equipment like oil evacuation systems and fluid displacement tanks but are not as robust in other service areas.
PM-centric trucks represent the largest segment of Dickinson's 750-truck fleet because they serve the highest volume segment of the company's business. But every business is different. At TLG Peterbilt, Vice President of Service Jason Stierwalt says only a handful dozen of vehicles qualify as lube trucks — one-ton pickups designed for PM work — most are custom-built Peterbilt 337s that serve as service bays on wheels.
[RELATED: TLG breaks ground on new full-service facility]
"Those trucks require a lot more tooling because the work those techs are doing is much more advanced," he says.
Jacks, impact wrenches and other vital shop tools are best to be loaded directly into a truck, experts add, though technicians can be given some autonomy to choose their preferred hand tools. Helge says Idealease trucks can be outfitted with a built-in toolbox or technicians can choose to bring their own. He says the latter is common for dealers who run their service trucks for more than one shift.
"At the end of the shift,the first technician takes his box out and the second tech loads his up and goes," he says.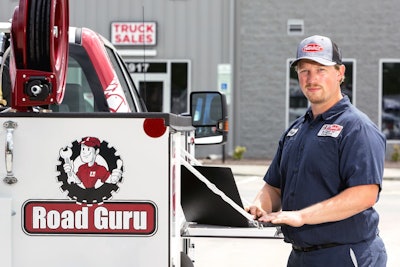 Who is going to operate the truck?
A great shop tech isn't always a great mobile tech. The technical, critical thinking and interpersonal skills necessary to succeed on the road are all different than what works in a shop. When outfitting a mobile service truck, experts say failing to account for the person behind the wheel of the vehicle can potentially doom the whole endeavor.
"It's a different lifestyle on a truck," says Stierwalt. "Some techs really like it. Others will do it but don't really like it. What you want is the person who likes it and understands it."
Stierwalt says he's discovered the best mobile techs are generally self-motivated, well-rounded professionals who can adapt to different working conditions. They also need to be comfortable communicating directly with a customer as opposed to working through an intermediary like a service manager or shop foreman.
Coltrain says DFS operated a 16-week technician training academy that it used to onboard new technicians and acclimate them to the company's processes and procedures. Achieving technical proficiency is a key outcome of the program but it's not the only goal, he says. Technicians also must prove they can work on an island, working with customers and dispatchers and maintaining focus while working in isolation.
Adds Larry Fowler, the Dickinson's fleet service manager, now also with Cox Automotive Mobility Fleet Services. "We prefer a well-rounded tech because there's no symmetry to what their work is going to be," he says.
Going from wheel-end repairs on a Monday to aftertreatment service on Tuesday and back to wheel-ends on Wednesday isn't out of the ordinary. Fowler says a good mobile tech can seamlessly transition back and forth between jobs and customers, managing each repair, parts order and customer invoice with ease.
"They pretty much need to be able to operate as their own small business."