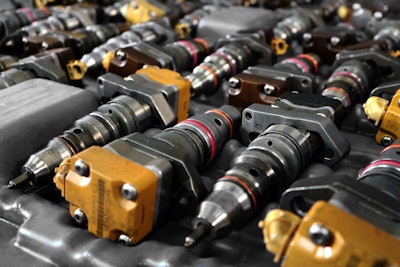 [This article was originally published in 2021 by Trucks, Parts, Service. It has been updated to include more timely information.]
Replacing fuel injectors is a common aftermarket service event. With typical life cycles of 500,000 to 750,000 miles, most factory-installed fuel injectors reach the end of their useful life after their engine ages out of its OEM warranty. This means the task of replacing them regularly falls to second and third vehicle owners, and the service providers they on which they rely.
Aftermarket fuel injector manufacturers say there are thousands of great injector replacement technicians in the aftermarket but, unfortunately, not every shop has one. Not every service provider has perfected the replacement process. That's a problem. Because for a component as critical and delicate as the fuel injector, it doesn't take much of a mistake during installation to create a major headache for a customer down the road.
Here are simple steps every technician should follow to safeguard against mistakes when replacing fuel injectors in medium- and heavy-duty diesel engines.
Prepare your service area
Having proper tools and a spotless service area is essential when replacing fuel injectors. Contamination is the No. 1 cause of premature fuel injector failures — both for factory-installed and aftermarket injectors — and can occur at many points during an installation. Pure Power Technologies' Prototype Engineer Nelson Dowdey says new injectors should not be unboxed until they are ready to be installed, and a clean space should be available in the service area so the injectors can be unwrapped and readied for installation when needed.
Tools to remove old injectors and install new injectors also should be easily accessible to not delay the job, including specialty tools designed for injector replacements and multi-use torque wrenches. Replacing fuel injectors in a medium- or heavy-duty truck engine can be done in less than a day, assuming a technician is well trained on the work and prepared from the outset.
Remove the old injectors
Once a truck is stabilized in a service bay with the keys removed from its ignition and battery supply disconnected, a technician can begin the process of removing the old fuel injectors. Experts say technicians should carefully follow all truck and engine OEM recommendations during this step, as each manufacturer's engine design and fuel injector system is unique. Experts also note in cases where an injector has failed prematurely, the root cause of the component's failure should be identified during or before an injector replacement to ensure new injectors don't meet the same fate.
Midwest Fuel Injection President Paul Thoms says most heavy-duty truck engines feature a unit injector system, while common rail systems are the most popular design for medium-duty engines. As technicians remove covers and assemblies and disconnect fuel lines, each component taken out of the engine should be cleaned and set aside for easy reinstallation once the new injectors are in place.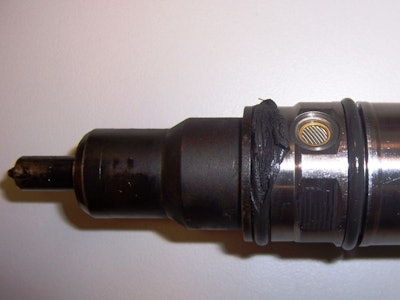 Clean engine and prepare new injectors
The cleaning doesn't end when the failed injectors are removed, Dowdey says. Each injector cylinder must be cleaned and purged, removing any fuel, water or other contaminants. Tip gaskets, which sit within the cylinder, should be removed if they did not come out with the old injector. Any dirt, grime or debris near the cylinders or on the injector clamps also should be wiped away, and the old gaskets should be swapped with clean, fresh replacements.
[RELATED: How to properly adjust wheel bearings]
"The seating area for the injector must be clean, as well as the hold down bolts," says Thoms. After the engine and service area are clean it's time to prepare the new injectors. Dowdey says each component should be carefully removed from its packaging and lubricated in advance of installation.
Install the new injectors
Experts say new injectors should be delicately pressed into each cylinder by hand. As an injector is moved into place, technicians should be careful to guide the component carefully to ensure the injector tip doesn't encounter anything that could cause damage. With diameters of typically 200 microns or fewer, injector nozzle tips are microscopically small; it doesn't take much contact or contamination to impact one's functionality.
"Almost 65 percent of the injectors we get back, once we test them, we discover there was a user error. A tech did something wrong during installation," says George Farmer, national sales and marketing manager, DSS ProDiesel.
Pure Power sees the same thing. "A huge percentage of our injectors we end up designating as 'no trouble indicated,'" Dowdey says. "We'll look at it under a microscope and determine someone dropped it or something."
Secure the injectors
Injectors should fit firmly into a cylinder with minimal effort. Technicians should never use a hammer or blunt instrument to drive an injector in place. After an injector is positioned, a hold down clamp should be used to lock the injector into the cylinder. Dowdey says Pure Power recommends a specialty torque wrench to torque the bolt of the hold down clamp to ensure proper torque and torque angle.
Again, experts note the importance of following manufacturer recommendations during injector installation and securement. Different engines and injector systems can require additional steps or components be replaced. Farmer mentions O-rings, which are replaced during the remanufacturing process and can become damaged during installation, as another component that can be improperly installed and lead to poor injector performance. "Sometimes techs don't perfectly line them up, they just kind of shove them in there, especially the rear cylinders" he says.
Close engine, reset codes
Once a technician has properly installed each new injector, he can reverse the process he followed at the beginning of the service event to reconnect fuel lines and reposition assemblies, covers and other related components. Though injector contamination risk falls precipitously once an injector is locked into place, experts say technicians should still be careful in these final steps to ensure all components are properly reinstalled.
[RELATED: Remanufacturing: What it is and and what it is not]
And experts add an injector replacement doesn't end when the last bolt is tightened. Technicians also must remember to add the specialized TRIM codes that come with the new injectors into the engine's electronic control module (ECM). Thoms says these codes relay the specific characteristics of the new injectors to the engine to ensure the new components work properly once the vehicle powers up. "If you have the wrong TRIM codes, your engine is going to have problems," he says.
Power on and idle engine
Pure Power Engineering Technician Brian Durrell also notes technicians should run an engine at idle for at least 20 minutes after TRIM codes are added to ensure the engine is functioning properly. If a major mistake was made or oxygen entered the fuel system (causing fuel aeration) during the replacement, Durrell says it will be noticeable during this period.
"After installing new injectors, the only way the aeriated fuel can escape the system is through the nozzle," Durrell says. "So, starting the engine and letting it idle for a minimum of 20 minutes is the best thing to do after installing new injectors. This will push the aeriated fuel out of the injector nozzle. Failure to do this may create a low/no-fuel condition, which would cause internal damage to the injectors."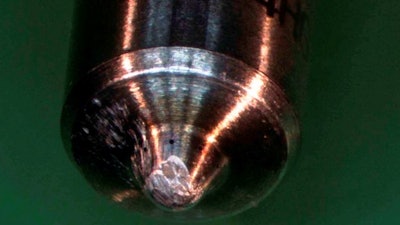 And, in case you're wondering: Common causes for premature injector failures
Most fuel injectors are designed to last at least 500,000 miles. When one fails earlier, it should be reason for alarm. In addition to faulty installation practices and poor preventive maintenance of the oil and fuel systems, common causes for excessive diesel injector wear include:
Water in the fuel: Failure to use, or maintain, a good water separator will allow water to subsist in fuel
Clogged fuel filter: Fuel containments can cause injectors to stick open or clog spray holes, resulting in poor engine performance and mileage. Failing fuel pumps can send debris down the fuel pipes and rail lines into injectors.
Coolant mixing with oil: A leaking head gasket is a common cause of this, which can dilute the oil and cause lubricity issues with injector operation. Checking for oil contamination before replacing injectors can help avoid future issues.