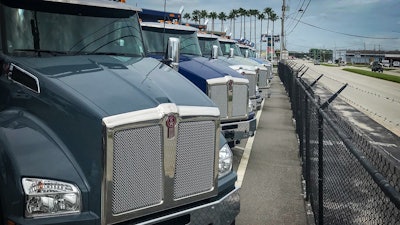 Kenworth Truck Company has named its 2022 Kenworth Service Council. Leading Kenworth service managers in the United States and Canada serve on the council.
The company says members of the 2022 Kenworth Service Council are: Chairman Jeff Minter, CSM Companies (Windsor, Wis.); Matt Allen, Inland Kenworth (Fontana, Calif.); Ryan Dicken, GreatWest Kenworth (Calgary, Alberta); J. Ellis, Kenworth Northeast Group - Boston (Brockton, Mass.); Jim Garner, CIT Trucks (Normal, Ill.); Wes Gellhaus, MHC Kenworth (Leawood, Kan.); Josh Hayes, NorCal Kenworth (Sacramento, Calif.); Nicolas Letendre, Kenworth Maska (Sherbrooke, Quebec); Dan Mills, Sioux Falls Kenworth (Sioux Falls, S.D.); Richard Williamson, Truckworx Kenworth (Birmingham, Ala.); and Kenworth Dealer Council representative Bill Kozek, CSM Companies (Windsor, Wis.).
[RELATED: Kenworth names dealer council for 2022]
The council works in partnership with Kenworth to support The World's Best customer experience throughout the Kenworth dealer network in the United States and Canada, the OEM says. Additionally, Kenworth PremierCare dealers help fleets and truck operators to maximize productivity by offering a full stock of parts and accessories, expert factory-trained and certified technicians, and mobile roadside assistance.