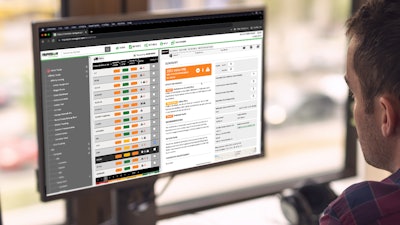 While preventive maintenance has been commonplace for keeping trucks on the road, predictive maintenance has been gaining a greater foothold in the industry, especially as an increasing number of sensors are being added to heavy-duty vehicles.
Some would argue a drawback to all the data is, well, there is too much of it. Often it is raw, unactionable data and many in the industry aren't quite sure how to use the information effectively. Fortunately, several predictive maintenance solutions providers are now separating the wheat from the chaff to offer actionable, data-backed information to manage on-road assets and predict failures on the trucks to eliminate surprise breakdowns or catastrophic events to myriad truck components.
What's more, aftermarket service providers who are in the loop with predictive maintenance solutions providers and truck owners have the opportunity to be even more prepared when ailing trucks enter their bays, thus maintaining and creating satisfied customers.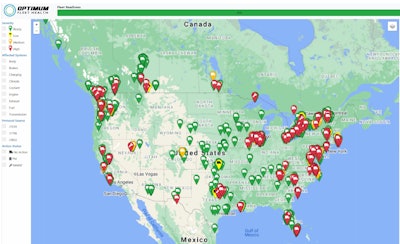 Questar and Optimum Fleet Health sum up the goals of predictive maintenance solutions providers.
"The main value that we provide our customers is by lowering their total cost of ownership and increasing uptime of fleets," says Questar CEO Erez Lorber.
Optimum Fleet Health Chief Development Officer Klay Kachur says, "We keep assets on the road with the companies we work with, and the business keeps making money because unplanned breakdowns are a huge cost to the business. We're reducing the overall downtime."
In addition to downtime, predictive maintenance saves on towing costs, mitigates disruptions to workflow and enables truck owners to prioritize maintenance services before the truck is inoperable, Kachur says.
Collecting vehicle data
Pitstop offers a cloud-based solution using existing data as well as data integrated from telematics equipped on commercial fleets. There are between 30 and 300 different sources, depending on what vehicle type. The company also pulls maintenance data and service records that enable it to validate and train its models to learn what's happening in the field with customers, says Pitstop CEO and Founder Shiva Bhardwaj.
"Today we process data across a half a million vehicles and our data set has been growing by 800 percent a quarter," Bhardwaj says.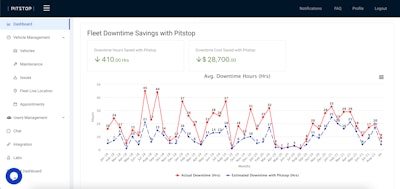 Pitstop uses a web-based dashboard so fleet managers can visualize the most critical issues across the fleet, including all maintenance items, real-time predications, fault codes, recalls and service histories.
"We facilitate predictive maintenance with our remote diagnostic platform, TripVision, which gives both panoramic as well as granular insights into commercial vehicles such as diagnostic information as well as predictive maintenance information," says Sandeep Kar, chief strategy officer, Noregon Systems. "TripVision identifies active faults that are predicted to escalate if not addressed."
TripVision's predictive health score uses the same calculation as the current health score its solution offers but also includes downstream predictive issues for active faults in the vehicle, Kar says.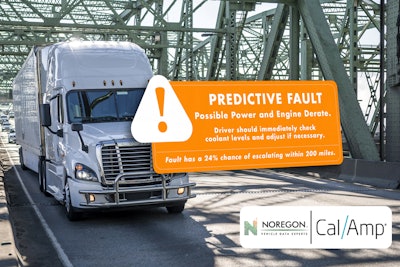 Noregon recently partnered with CalAmp to deliver remote vehicle diagnostics and predictive maintenance capabilities. A CalAmp device plugged into the cab collects data and sends it to its cloud telematics platform to apply business analytics to it. The data is sent to Noregon to add its own analytics to the data.
"At Optimum Fleet Health, we offer a predictive solution that detects unforeseen issues up to four weeks before the failure of assets … and we provide an actionable resolution plan for technicians to lead them to the underlying issue. In situations where you go in for service, regardless of if it's a big fleet or a small owner-operator, we can pick out what the true underlying issue is so [technicians] aren't running around troubleshooting. This is a huge time savings on the diagnostic side of things, prioritizing work and really reducing downtime," Kachur says.
"We use the existing telematics device on each of the on-road assets. We're specifically a software solution. There's no extra hardware and we're completely agnostic with the telematics service providers (TSPs). We run into a lot of situations where we must deal with multiple TSPs within one organization. We run off all their data they pay for already," he says.
[RELATED: It takes an industry to optimize data for predictive maintenance]
To provide actional data to its customers, Questar uses a telematic device, which is installed in the vehicles and connects to the all the sensors.
"With our processing power inside these telematic onboard devices we're able to run our algorithms where we understand the communication protocols of the vehicle to understand the flow of data in the vehicle," Lorber says.
"We apply some algorithms to take only the interesting data that points to possible failures and then we take this data, and we send these insights to the cloud where we apply additional logic on our server side," he says, adding Questar is then able to point out exactly what is going to go wrong before it gets to a point of no return.
Opportunity for aftermarket service providers
Predictive maintenance solutions providers typically send important truck status information to the fleets, which then decide where to send their vehicles. However, it is advantageous for independent aftermarket service providers to be proactive in getting in the information loop.
"The solution is designed to stoke revenue and opportunity … for the independent aftermarket as well as for the dealership OES channels," says Kar. "If the fleet has a preference to the OEM dealership, then the business gets offered there. If not, then it goes to independent services facilities."
After determining what is about to fail, next is maximizing uptime by scheduling maintenance repairs that ensure a certain bay, technician and parts are available, which drastically reduces dwell time, says Kar.
[RELATED: AI in predictive maintenance enhances supply chain flow, creates better competition among fleets]
Brett Jackson, CalAmp senior vice president of transportation and logistics, likens aftermarket service providers being included in the sharing of predictive maintenance data to health insurance.
"You have out-of-network and in-network [service providers]. I can see this being a network of third-party service centers that are able to stage parts and service efficiently. And, while being in the network, they're having business driven to their location," Jackson says.
With Pitstop's cloud-based solution, alerts go to fleet managers, but the solution can be configured so aftermarket service providers also receive the alerts.
"The fleet manager has to click a button and a service request is sent to the service provider or they can make it so the alert is sent automatically," Bhardwaj says.
Kachur says fleets might have certain aftermarket service providers they go to for all their service or for repair and maintenance on certain systems on their trucks.
For example, Optimum Fleet Health easily can give the preferred service provider access to any exhaust alert on a fleet's vehicle in their area. More broadly, if the service provider handles all of a client's service, they can be given visibility to the entire fleet and see, such as asset No. 10 needs to be brought in for whatever the case might be.
"They can have visibility to the parts they need, and they can notify that client of an underlying issue and to bring it in for service before there's a failure. It's a huge benefit," Kachur says.
Promoting predictive maintenance
Predictive maintenance solutions providers suggest promoting the value of predictive maintenance to customers.
Lorber says the easiest way for a service provider to link up with Questar is through one of its local distributors and then offer the service to its customers.
"They can install one of our devices on the trucks and from that moment on be in touch with this customer," Lorber says.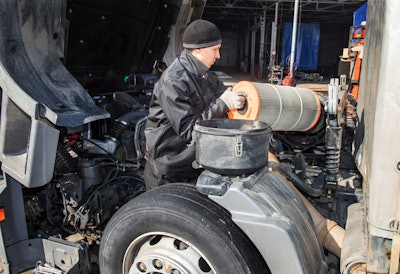 A service provider "will set up this solution together with us or one of our distributors and for any truck that comes in for service say, 'If you want, we can install this unit and we are in direct contact with your vehicle and we are able to alert you if something is going wrong and how and what action needs to be taken. This is the business model and it's very simple to do," he says.
By informing customers they can remotely ensure their vehicles are running well, aftermarket service providers can improve customer relationships and increase because they're not just taking care of the vehicle while it's within their own four walls, says Bhardwaj.
"There's value that can be attributed to the service provider. I am open to having discussions with any aftermarket providers that are forward thinking and interested in learning about how this can potentially work," he says.
Kachur says the future is having the visibility of actionable data predictive maintenance solutions provide.
"The cost saving of transitioning from the mentality of run everything to failure to being proactive is so important," Kachur says, adding he has seen a shift in the last 12 to 18 months of larger fleets realizing the importance of this data.
Not only is it important for fleets to understand the value, but it's also important aftermarket service providers do, too. It would behoove them to discuss predictive maintenance with their fleet customers to improve stickiness, add business and provide greater service for their customers.