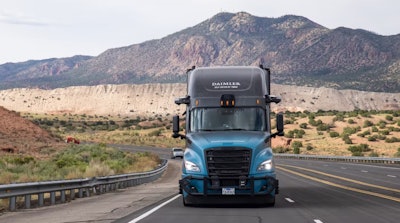 Torc Robotics announced Penske Truck Leasing will serve as the truck maintenance service provider for Torc's autonomous test fleet.
"Penske Truck Leasing's expertise and impressive track record in the global trucking industry will play a significant role in getting our trucks on the road and strengthening our goal of safe operations," says Michael Fleming, Torc founder and CEO. "Our objective is to integrate our trucks into the existing freight industry, and we are confident that a current industry leader, like Penske, will provide crucial support in doing just that."
This agreement is part of Torc's ongoing commercialization of autonomous trucks for long-haul applications.
Torc recently announced the Torc Autonomous Advisory Council (TAAC) in support of its goal to be the first scalable, profitable, commercialized Level 4 truck solution. Penske Truck Leasing, along with key freight industry leaders, will provide strategic guidance to Torc as it integrates with the freight network and tackles challenges beyond highway driving.
Paul Rosa, senior vice president of procurement and fleet planning, Penske Truck Leasing, says, "We are very pleased to support Torc's fleet uptime with our best-in-class truck maintenance program. This arrangement serves as a great complement to our work on the Torc Autonomous Advisory Council."