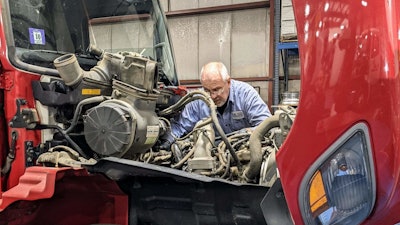 H.K. Truck Center
Heavy-duty truck dealers and aftermarket distributors have their hands full when it comes to providing service to their customers. Continued supply chain issues and inflation have made parts more expensive and oftentimes hard to get. What's more, a lack of prospective technicians is giving service providers' techs all they can handle.
Nevertheless, dealers and distributors, for the most part, are keeping their foot on the gas when it comes to seeking new business for their service bays.
"We've always said it doesn't matter what's happening, you keep moving forward. You keep going like there isn't an issue and our service team and the rest of the people in house will figure out how to do it," says Vanessa Ciervo, chief operating officer, H.K. Truck Center.
To Ciervo's point, H.K. Truck Center has an employee on the road every day dedicated to selling parts and service. "That has not stopped or changed. We have not slowed down. We'll figure it out," she says.
"Granted, when a new customer comes in, we wish we could jump on [the job] and turn it around right away but I think most people understand anywhere you go you're going to run into the supply chain or tech issue where things are delayed," Ciervo says.
The dealer is confident once a customer comes through its doors, the quality of service will keep them coming back and that H.K. Truck Center, which is currently scheduling appointments two weeks out, is worth the wait.
"We do have a rental fleet here so … the good thing is when our customers come in, they can potentially rent a truck and keep their business moving while their truck is being serviced," she says.
Donahue Truck Centers is another company going full throttle. Donahue Truck Centers recently created a new sales manager position and is hiring account managers to go out and find business.
"We're absolutely seeking new customers. We're in growth mode," General Manager Jimmy Wall said last month during a webinar held by Fullbay.
[RELATED: Inflation causing mixed results for trucking industry's service providers]
While the technician shortage is an issue for the dealer, a key part of its business doesn't require senior service personnel.
"We've found being in the lease and rental industry, preventive maintenance is a key to our business model. So, the simplicity of oil changes and what we call manual inspections — just doing those — we find huge success and you don't have to have a $40 an hour, 20-year veteran technician to do those," Wall said. "But it is a challenge when you have the heavy-duty repairs that need to be done."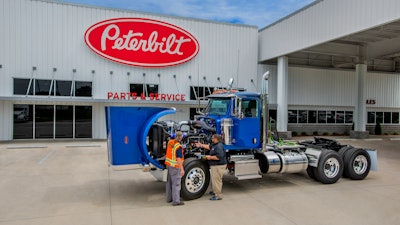 The Pete Store always wants more business, but when there are many trucks waiting for service, "you may not be pushing as hard as you would," says Craig Kendall, The Pete Store, general manager for its Knoxville, Tenn., and North Georgia stores.
To handle the number of trucks coming in, The Pete Store instituted TQR, which stands for triage/quick repair. Instead of telling a customer, "It's two weeks to get in," the company asks to look at the truck and determine what it needs (triage). If it's a simple fix, The Pete Store will begin work on fixing it (quick repair). And, sometimes, it's something that doesn't have to be fixed immediately and the customer can schedule an appointment. If a repair is more involved, like an engine replacement, The Pete Store will order the requisite parts and park the truck outside, leaving the bay open to repair other trucks.
The volume of business has forced The Pete Store to be "smarter and more efficient," Kendall says. "Yes, we can and have built some bigger dealerships, but just building more and bigger bays is not the complete answer. We're big believers in TQR and we've made some good strides with it, and we continue to work on it to get better."
The Service Company certainly isn't going to turn business away, but it is cautious about taking on work it can't deliver in a timely fashion.
"Yes, of course if we have the opportunity for more customers, and we're going to more than likely take those on and somehow find some way to service them. To actively go out and find customers, that's probably something we currently keep the brakes on somewhat just because the technician shortage is real and to overpromise [is bad for business]," Manager Luke Todd said last month during the Fullbay webinar.
"That being said, we do some sales efforts, but we are pretty focused on what we're trying to get accomplished there because it helps some other areas of the company," Todd says. "We're working on expanding, but from the service end, you can get yourself and the customer in a bind quickly if you don't have the capacity to actually do the work you're out there selling."
[RELATED: The 2022 State of Diesel Technicians report, presented by Shell]
Some service providers are not looking for business because they say they have enough customers calling on them.
"We're not seeking [more business], it's seeking us. We don't have anybody out selling service. We can't do anymore. The last thing you want is to get known for is, 'Yeah, they said they'd get to it tomorrow, but they haven't even touched it.' You don't want to ever get known for that. I'd rather tell you I can't touch it. But if I tell you I can fix it, someone will stay until tomorrow to fix it if that's what is necessary," says Edward Neeley, president, Truck Supply Co. of South Carolina.
Neeley says the company feels the effects of the technician shortage, but there is no room in the bays so the additional techs wouldn't make much difference.
He says they have to learn to work with what they have. There's no abundance of technicians so they can't fire someone if they aren't passing muster.
"You have to go to them as an owner and retrain that person. Is there any way I can salvage this person? If you have some who have the 'want to' but don't have the skillset, maybe you can make AAA ballplayers out of them even if they aren't going to the big leagues."
Columbia Fleet Service Inc. is another company with as much business as it can handle, according to General Manager Pat Murray.
"We don't actively have to seek it. It comes pretty easily. We do very little sales. They're calling us. We don't typically try unless we hit a slow period and we call current customers and make sure they're up to date with their DOT [inspections] or PMs, but we haven't experienced any slowness recently," Murray says.
He says the shop is always trying to take in new work while performing all the existing jobs. "It's hard to find that balance of taking in new customers while you already have a handful of customers here at the shop waiting. We don't like turning people down, though, so it is a struggle," says.
Murray adds the supply chain issue creating difficulty in getting some parts adds to the struggle.
"National backorders for parts and parts with no ETA is a hard pill to swallow for our customers when we say this is what's wrong with your truck but the dealer can't tell us when they'll get it," he says. "So, sometimes we have to get creative and find parts used or in the aftermarket."