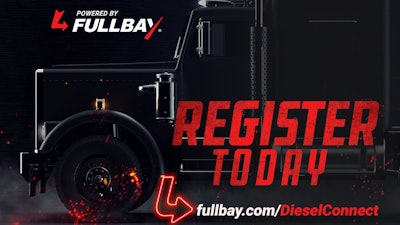 Fullbay has announced it will hold its second-annual Diesel Connect Conference from May 6-8, 2024 at the Gila River Resorts & Casinos in Chandler, Ariz.
Diesel Connect serves as the heavy-duty repair industry's premier networking and knowledge sharing event, enabling shop owners an opportunity to connect with their peers and business partners to better understand and navigate strategies and tactics to grow their businesses.
Individuals who register for Fullbay's 2024 Diesel Connect Conference before Nov. 1 will gain access to super early bird ticket pricing, saving registrants $100 off the regular $450 price.
"The Fullbay team is thrilled to announce the official dates for our second Diesel Connect Conference," says Patrick McKittrick, CEO of Fullbay. "Following the success of our inaugural 2023 conference, which featured remarkable keynote speakers, riveting roundtable discussions and a sold-out crowd, we look forward to providing even more content designed to help heavy-duty vehicle repair shops run their businesses more efficiently."
The inaugural Diesel Connect Conference, held in June 2023, was well-received by attendees.
Surpassing attendance expectations, the event featured keynote speakers and discussions led by industry professionals, military veterans and Fullbay executives that centered around the state of heavy-duty repair, including digital marketing, mobile repair services, technician efficiency and utilization, labor rates, technician shortages and more, Fullbay says.
For more information and to register for the 2024 event, click here.