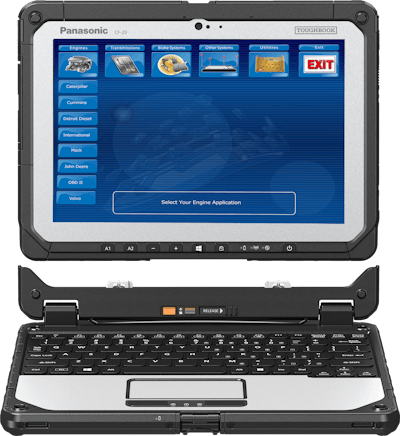 Diagnostic Innovations, LLC, introduces Vehicle Diagnostic Assistant 20P (VDA20P) diagnostic tool.
According to Diagnostic Innovations, the VDA20P features a detachable PC (the Panasonic Toughbook20) that combines the best features of a laptop and tablet. It is said to offer unprecedented mobility and versatility so it can operate in the toughest climates and dirtiest environments.
At its very core, Diagnostic Innovation says the VDA20P helps technicians diagnose and troubleshoot engines, transmissions and braking systems of today's fleet vehicles.
"Our VDA20P increases employee morale by empowering technicians with one comprehensive and easy to use tool that maximizes each turn of the wrench," says Drew Gibson, fleet manager at Diagnostic Innovations.
Diagnostic Innovations says the Panasonic Toughbook 20 runs Win 10 Pro, Windows 8.1 or Windows 7 downgrade option available. It is MIL-STD-810G certified to meet United States Military drop and environmental standards. It has a 2MP Webcam, both WiFi and Bluetooth, and comes with a large 10.1 in. daylight-readable touch screen, which can be operated with or without gloves. It uses an Intel Core m5 1.1 GHz v Pro Processor with 8GB Ram and 128GB, 256GB or 512GB solid state drive.
Multiple fleet options are available with branded OEM software, and the company says a RP1210A compliant interface box is offered with 6 and 9 pin connectors alongside an OBDII connector. The necessary cables and interface boxes also are included in one heavy-duty carrying case.
"Customer satisfaction is our first priority and it's very important to us that once our customers open the box they have everything they need to get the job done and are ready to go without delay or aggravation," Gibson says.