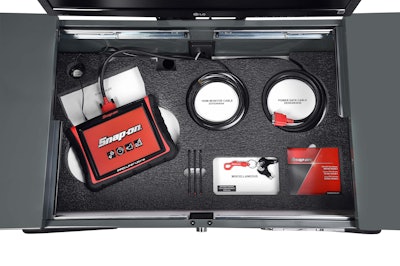 Snap-on has released its 2016 Heavy Duty Flyer, a 16-page flyer filling with tough tools and products to improve productivity in tough situations.
"With every step in the design process, our Snap-on product management teams find ways to help technicians work more efficiently," says David Brekke, product manager for Snap-on. "The Heavy Duty Flyer captures those tools that take technicians to the next level in professional repairs and maintenance."
Among the products featured in the flyer is the new Snap-on Pro-Link Ultra Diagnostics Kit.
The Elite Kit (EEHD345EPWZ) and Starter Kit (EEHD345SPWZ) provide OEM-proprietary diagnostics for commercial heavy-duty trucks. Tested and licensed OEM coverage applies to all major systems, including engines, transmissions, ABS, instrument cluster, emissions, SCR, body systems and more. Equipped with a 27-in. HD LED monitor and roll cab, this kit is perfect for truck shops, general repair, fleet maintenance, mobile service and municipalities, the company says.
"Today's roads are filled with heavy duty vehicles with complex, state-of-the-art systems. Gone are the days of the quick mechanical fix. Technicians must be able to solve complicated, computer-based problems. The Snap-on Pro-Link Ultra takes trouble-shooting to the next level by providing techs with reliable solutions," says Brekke.
The EEHD345EPWZ includes 18 software titles, while the EEHD345SPWZ offers three predetermined software titles. Snap-on says both models feature an 8.5 in. full color LED sunlight-readable display, as well as the ability to view data results via HDMI output to the 27-in. monitor from in the truck seat. The roll cab is perfect for mobility, with four custom-fit foam drawer organizers for easy-to-access storage of essential product components. The top drawer is large enough to store a printer for vehicle reports and diagnostic information right from the service bay, the company says.

The Heavy Duty Flyer also highlights various hand tools including the Snap-on SHN36 1/2-in. Drive 36-in. breaker bar. Ideal for use on stubborn, rusted fasteners, the SHN36 is perfect for tire removal, turning of head bolts on heavy-duty trucks and track adjustments on construction and agricultural equipment, Snap-on says.
"Techs were looking for a tool that provides more leverage to increase power when turning stubborn fasteners," says Snap-on Product Manager Brian Benes. "The SHN36 offers 33 percent more torque when applying the same amount of force to the handle than other 1/2-in. breaker bars."