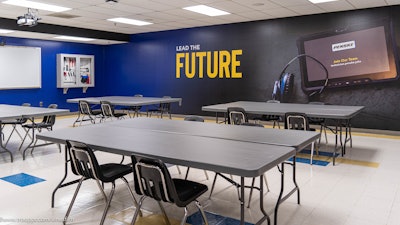 Penske Truck Leasing recently held a dedication ceremony at Lincoln Tech in Columbia, Md., as the company branded a 1,000 sq.-ft. multipurpose classroom at the school. The space will mainly be utilized during Lincoln's Driving Your Performance course, which introduces students to various topics such as vehicle and engine systems, industry certifications and career opportunities in the industry.
Over the last 10 years, Penske has hired more than 220 graduates from Lincoln Tech's Columbia, Md., campus to work as truck maintenance technicians in its regional operations.
"We are very pleased to support Lincoln Tech's work in training the next generation of maintenance technicians," says Brian Borgoyn, Penske Truck Leasing area vice president. "The school represents a vital talent pipeline for our company's operations across the Mid-Atlantic region. Properly trained technicians are key to providing uptime to support the transportation operations of our customers."
[RELATED: How to mend the trucking industry talent shortage]
"Our country is facing a severe shortage of skilled technicians which has only worsened as a result of the COVID-19 pandemic," says Lincoln Tech President and CEO Scott Shaw. "As a leader in career training for 75 years, Lincoln Tech is thrilled to have the support of Penske Truck Leasing in our effort to bridge the skills gap by providing the comprehensive, hands-on automotive training programs that produce job-ready graduates."
Penske Truck Leasing operates and maintains one of the industry's largest fleets with its truck maintenance technician workforce comprising about 8,800 of the company's 37,000-plus associates.