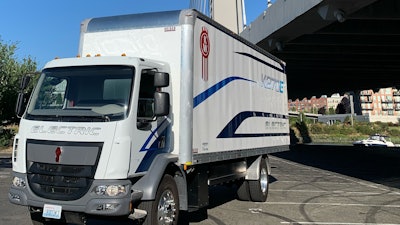 Kenworth has introduced a comprehensive electric vehicle technician training and certification program as part of its efforts to prepare Kenworth dealerships to service electric vehicles in the United States and Canada.
Kenworth's Jim Walenczak, Kenworth assistant general manager for sales and marketing, says developing the program is essential for the OEM to "support Kenworth's 'Driving To Zero Emissions' endeavor to bring battery electric vehicles into the marketplace by ensuring that we help provide in-depth training and a certification path for service technicians at Kenworth dealerships."
To attain initial EV certification, Kenworth says technicians must successfully complete a seven-course curriculum on service systems, electrical principles, electrical systems, electrical systems II, cab and chassis electronics, electric vehicles systems, and advanced electric diagnostics. Course length runs from two to four days.
Kenworth says the program offers a variety of classroom and virtual training.
Kenworth's Driving To Zero Emissions product line features the Kenworth T680E (Class 8), K370E (Class 7) and K270E (Class 6) battery electric vehicles. Built on proven platforms with superior visibility, reliability, maneuverability and driver comfort, Kenworth says the T680E Class 8, K270E and K370E medium-duty models combine state-of-the-art zero emission powertrains with comprehensive Paccar charging solutions and infrastructure support, so customers can drive to zero emissions with confidence.