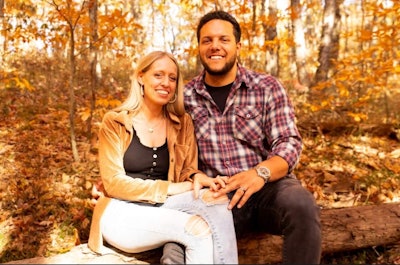 Brent Benbow
Jamie Fleming was a manager of a hair salon.
Brent Benbow was part of the Army's prestigious Old Guard in Washington, D.C.
Zack Eves sold and serviced printers and other office equipment.
Brandon Black did sales in a call center.
They're all in the heavy-duty industry now, and all four say they're in it for the long haul.
From rifles to wrenches
Benbow, Cox Automotive Mobility Fleet Service's fleet service director of operations, received some diesel education in a technical school before joining the Army. In the service, he was assigned to the Army's Old Guard, the official escort of the president of the United States and who guard the Tomb of the Unknown Soldier in Arlington National Cemetery, among other ceremonial duties.
He served at President Barack Obama's second inauguration, spending a total of 10 years in active duty and in the reserves.
"When I was in the reserves, I changed over to a mechanic," Benbow explains. He used the GI Bill to finish his education at Indiana Tech and resumed his career in the heavy-duty industry.
He was a mobile technician and mobile technician leader before becoming director of operations.
Cox targets veterans extensively in their recruiting, offering a dedicated resource group, mentoring and leadership training, and corporate fellowship opportunities. The company was named a best place for veterans to work by Forbes magazine in 2021.
Benbow credits his success to two things: Continuing education and his family.
"You have to go out and always be willing to learn more," Benbow says. For those just getting into the heavy-duty industry, he says to learn as much as you can from those around you, and, if you're interested in management, learn first to manage yourself.
His wife of 11 years and his two boys, ages 5 and 8 are also behind them all the way.
"Family's first," he says.
Degrees before diagnostics
Jamie Fleming, who works for Rush Truck Centers in Nashville, got her degree in business administration.
"I've done a bunch of supervisory work," she says, outlining jobs in hair salons and in the wedding industry. "I decided that working on a computer is not for me."
Instead, Fleming went to welding school and, later, did a diesel apprenticeship at the company where she worked welding trailers.
"I like the challenge," she says. "Every day is such a challenge, especially with (diagnostics)."
Fleming says her high school had automotive programs, but she didn't start then, thinking she needed to take the traditional route of a four-year degree to have a career. Diesel technician is a career path she wishes she knew about sooner, when she was still in middle or high school.
"I wish I would've started 10 years ago," she says. "Trades are just as good of an option as getting a degree in something else."
[RELATED: UTI's Ignite program for HS students to return]
Bonnie Greenwood, one of the top diesel technicians in the country, told a panel at HDAW recently she also came to the industry after a more traditional collegiate career path. She earned a degree in wildlife biology and ended up working in a variety of fields before becoming a technician.
She only found the field after extensive research.
"High schools don't emphasize trades," Greenwood says.
Jen Nedrow, another technician on the panel, suggests reaching out to children as early as grade school to let them know that anyone can be in the heavy-duty industry.
"Teachers have to believe women can do this job," Nedrow says. "There are no gendered jobs and careers."
Fleming hopes to broaden her horizons in the heavy-duty industry, maybe trying out service adviser and other roles. But, at the end of the day, she likes being in the shop.
"I do prefer turning wrenches over the other roles, but it's hard on your body and I would like to use my bachelor's and background to move forward eventually," Fleming says. "But right now, I'm enjoying the aspects of what I'm currently doing."
Bigger tools, better career
Zack Eves is acting service manager at Rush Truck Center in Salt Lake City. He'd always worked on his own vehicles while earning his pay as a legal assistant and then selling and servicing office equipment, such as printers.
"It was very small equipment and you had to be very delicate," Eves says.
His tools are a little bigger now. He's been a tech for five years and gets great satisfaction out of seeing a broken truck come in the door and a fixed truck going out.
"Seeing something you worked on roll out of the shop and not come back, that satisfaction is something to drive for as a technician," Eves says.
Eves took an automotive class in high school, but never thought of working on heavy-duty trucks as a career, even though he saw trucks every day and knew how important they were to the economy.
What he appreciates working for Rush is the opportunity for continuing his training on the job.
At another panel back at HDAW, Tyler Robertson, founder and CEO of Diesel Laptops, says that continuing education is the key to finding and retaining great technicians. "There's not a lot of opportunity for today's diesel technicians to get continuing education," he says. "It's a black hole. It's very hard to get independent shops to say they're going to invest, buy some courses and lose a technician for a week when they've got 20 trucks and a backlog."
But, he emphasizes, that training is critical, even if you're afraid of investing in the tech and losing them to another shop.
George Arrants, vice president of the ASE Education Foundation, says the problem in finding technicians is that it's difficult for them to transition from the educational environment to the workforce and still keep up with training and skills. He also agrees with Robertson that investing in that continuing education is critical.
"What if you train them and they leave," Arrants asks, then points out, "Well, what if they stay?"
Eves says Rush's commitment to training technicians is part of the reason he stays with the company.
"You can take your skills and go anywhere in the world," Eves says, adding there's always going to be a need for freight and, if there's a need for freight, there's a need for people to keep those trucks running.
Sales to seals
Brandon Black, a Rush technician in Columbus, Ohio, says he did just about everything in sales you can think of, including working in call centers.
He was recruited into that heavy-duty industry on LinkedIn for that sales ability, starting off in parts. But before he could move up to sales, the shop floor called. With a mechanic father and father-in-law, Black took the leap 14 months ago.
"I get a lot of fulfillment out of fixing things," Black says. "I feel accomplished. It's been a long time since I've had a job where I'm excited to go to work every day."
Black says he was completely against being a technician before he was for it. But if he had known how patient and understanding his supervisors and coworkers would be, he would have done it long ago.
Nedrow, who is now a manager with Betts Truck Parts & Service in Portland, Oregon, says building those kind of relationships is key to finding and keeping great technicians.
"It's really playing to the individual," Nedrow says. "You have to learn the things that lights their fire or upsets them. You can't keep people in a spot where they consistently feel like they're failing.
Black looks forward to building those relationships but says that, at least for now, management isn't a goal for him.
"I finally have a career, not just a job," Black says. "I love turning wrenches. As far as I can tell, I plan on staying on the floor."