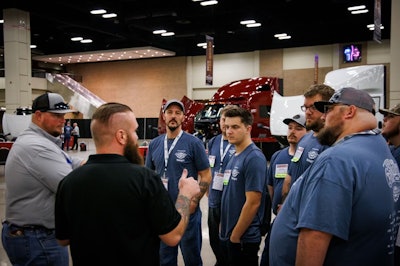 Rush Truck Centers is a giant in the industry with more than 100 truck centers across the country employing more than 8,000 people.
Victor Cummings, Rush's vice president of service operations says if he couldn't find qualified techs (and few shops can), he'd make them.
"There's a tech shortage," Cummings says. "I did a deep dive studying what we're up against, because we were struggling to add technicians."
[RELATED: Dealer, tech school team up to cultivate technicians]
The company recently kicked off a program where people with no prior heavy-duty experience can enter a mentorship program on the shop floor and learn their way into a new career by doing preventive maintenance (PM) in the dealership environment.
"It's the right work for lower-level techs to find their footing," Cummings says.
And it's profitable for the company. Cummings says PM work leads to other work for Rush down the road — about three times as much, incrementally. The company also finds PM visits generate, on average, about the same profit per visit as repair visits.
The techs get the training, the truck gets serviced, the truck center makes the money. It's a win all around.
At the first of this year, Rush also launched partnerships with Peterbilt and International and trade schools near all its truck centers.
The OEMs are giving trade schools near Rush Truck Centers access to their online trainings. Once students complete those trainings, they can come into a truck center and spend 20 hours shadowing Rush employees all along the line of a truck repair or service.
"From there, it becomes the true internship of doing various tasks with a mentor to really kind of learn the ropes around the shop," Cummings says. "We don't think that's the absolute solution. We think that's one of the options to attract new talent."
The company also is hosting career nights with pizza dinners to get people more interested in the heavy-duty industry. Because, as Cummings says, technicians don't grow on trees.
"When you look at the number of techs retiring even over the next five years, the number of people coming into the industry and the number of decades we're losing, it's not just a headcount," Cummings says.
Zack Eves is acting service manager at Rush's Salt Lake City location. Before he became a technician, he worked in office equipment sales and service and as a legal assistant. Rush's ability to take a green hand and support them through their education is why he's sitting at his desk today, he says.
"Their willingness to take someone walking off the street and turn them into a master technician is something I've never seen anywhere else," he says.
Rush also has programs like their long-standing Tech Skills Rodeo to encourage technicians to grow and refine their skills. Their Rising Stars program is designed just for entry-level technicians.
"I was hatched on the shop floor," President and CEO Rusty Rush says. "Training is something that always evolves. You think you get them trained up and it's over and it's not. It's a constant thing. We look at it as an investment."